Orange Marmalade Recipe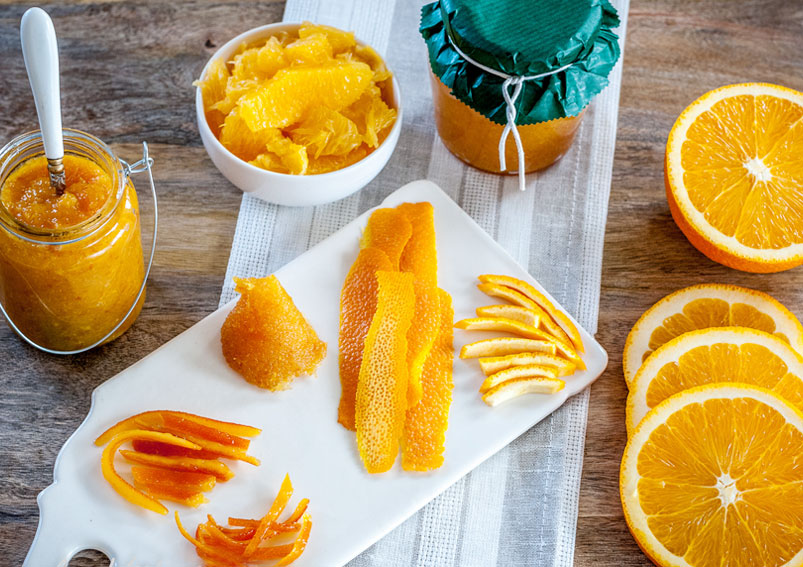 Orange Marmalade is an evergreen accompaniment for bread toast and much-loved by people all around the world. It is quite easy and convenient and you will love the tangy sweet taste. So try out this recipe.
Ingredients
For the jam
1 KilogramOrganic Oranges
750 gramsSugar
You will also need
A few dropsof Rum to disinfect
3-4Jam jars and lids (300-350 milliliter)
Directions
Wash your oranges well and cut them into slices
Place the orange slices in a larger pot\ vessel and sugar.
Mix well.
Cook on a low heat for 30 min.
Keep stirring it till they are a rolling boil.
When you fill your orange marmalade got a correct consistency, take it off the heat.
Test if the marmalade is set by dropping some on a cold spoon, if it doesn't run then it is ready or if it runs, keep it for some more time on the heat and repeat the test until it doesn't run anymore.
Mash the marmalade with a hand mixer so that you have only smaller pieces left in the marmalade for some structure.
Pour the marmalade mixture into the clean jars.
Add a few drops of rum into the clean jar lids.
Then seal the marmalade jars well, keep upside down for a few hours.
Notes:
You can add a sticker label with the name on the jars.
Store in a cold, dark and dry place and in the fridge once the jam is opened.
Also, Read Sweet and Sour Sauce Recipe
BY Meghna Nath
This Recipe Rate :
(0) Reviews