Baked Cinnamon French Toast Recipe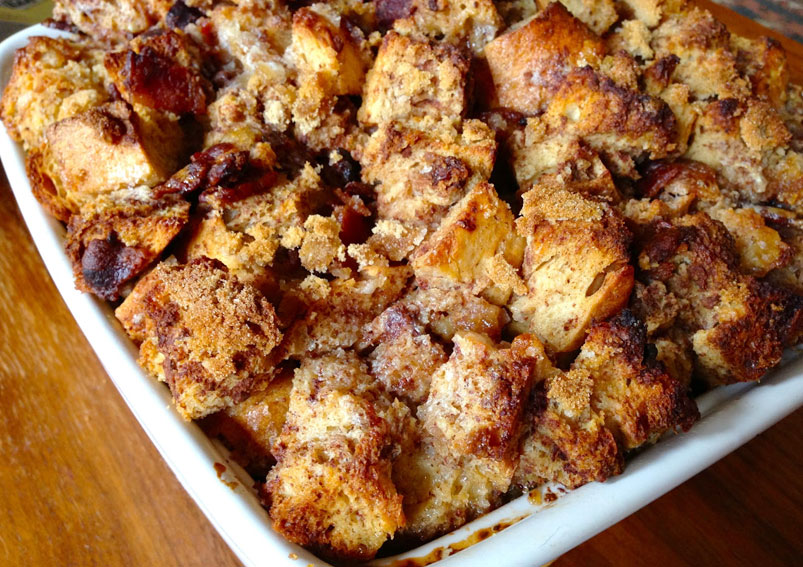 Cinnamon French Toast is the typical bread recipe. It is favorite among children. It is prepared by pouring the bread slices in the egg and milk mixture and then baked. A delicious and healthy packed lunch or snack option. Egg French toast is quite easy to prepare.
Ingredients
French Toast
for greasingButter
1loaf crusty sourdough or French bread
8whole eggs
2 cupswhole milk
1/2 cupwhipping (heavy) cream
1/2 cupgranulated sugar
1/2 cupbrown sugar
2 tablespoonsvanilla extract
Topping
1/2 cupall-purpose flour
1/2 cupfirmly packed brown sugar
1 teaspoonground cinnamon
1/4 teaspoonsalt
Freshlygrated nutmeg
1 stickcold butter, cut into pieces, plus more for serving
for servingWarm pancake syrup( easily available at the market)
1 cupfresh blueberries, for serving
Directions
For the French toast
Grease the baking pan with butter.
Tear the bread into chunks, or cut into cubes, and evenly distribute in the baking pan.
Break the eggs in a bowl.
Add milk, cream, granulated sugar, brown sugar and vanilla extract to the egg mixture.
Whisk them together.
Pour this mixture evenly over the bread.
Cover the baking pan tightly and store in the fridge until needed ( If refrigerated for overnight, it will taste better).
For the topping
Mix the flour, brown sugar, cinnamon, salt and some nutmeg in a bowl.
Stir together by using a fork.
Add the butter and with a pastry cutter, and mix it all together until the mixture resembles fine pebbles.
Store in a re-seal-able plastic bag in the fridge.
For baking the french toast
Preheat the oven to 350 degrees F.
Remove the bread mixture from the fridge and sprinkle the topping over the top.
Bake for 45 minutes for a softer texture or for 1 hour or more for a firmer, crisper texture.
Scoop out individual portions.
Top with butter and drizzle with warm pancake syrup and sprinkle with blueberries.
Also, Read How to Make Pancakes Recipe
BY Meghna Nath
This Recipe Rate :
(0) Reviews