Healthy Spinach Soup Recipe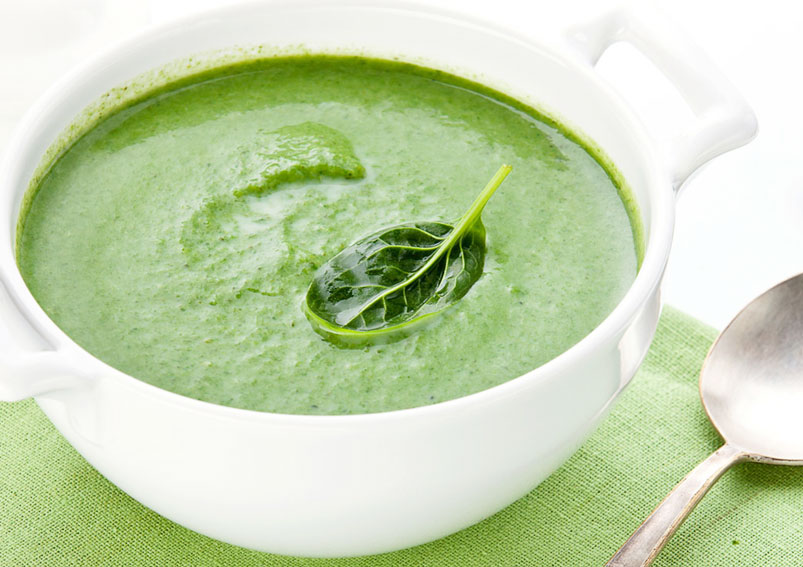 Spinach Soup is a good way to include healthy greens in your diet. You will enjoy this nutrient-dense easy to prepare spinach soup. This soup is cooked with low fat-milk and spinach which gives a lovely emerald green color, makes this soup irresistible. This soup is especially recommended for all the weight conscious people.
Ingredients
2 tablespoonsolive oil
10ounces fresh

spinach

2cloves garlic, finely minced
1/2medium onion, chopped
4 tablespoons(1/2 stick) butter
1/4 cupall-purpose flour
3 cupswhole milk
2 teaspoonskosher salt, or more to taste
1/2 teaspooncayenne pepper, or more to taste
Freshlyground black pepper
Directions
In a skillet, heat the olive oil over medium heat.
Add the spinach and garlic and cook, stir constantly, until the spinach is wilted, 2 to 3 minutes.
Add the mixture to a blender or food processor, pour in 1/4 cup hot water and pulse until pureed.
Set it aside.
In a large soup pot, cook the onions in the butter over medium heat until the onions begin to soften.
Sprinkle the flour over the top and stir to combine.
Cook for about 2 minutes, then pour in the milk, stir occasionally.
Add the salt, cayenne, and some black pepper and mix well.
Cook over medium heat for 5 minutes, stir constantly.
Pour in the pureed spinach, then cook until thickened
Cook for 3 to 5 minutes.
Check the seasonings, add more salt, black pepper or cayenne, as needed. Serve warm.
Spinach is a super food loaded with tons of nutrients in a low- calorie package. So include this soup in your diet.
Check More, How to Make Tasty Broccoli Soup Recipe
BY Meghna Nath
This Recipe Rate :
(0) Reviews