Spicy Schezwan Chicken recipe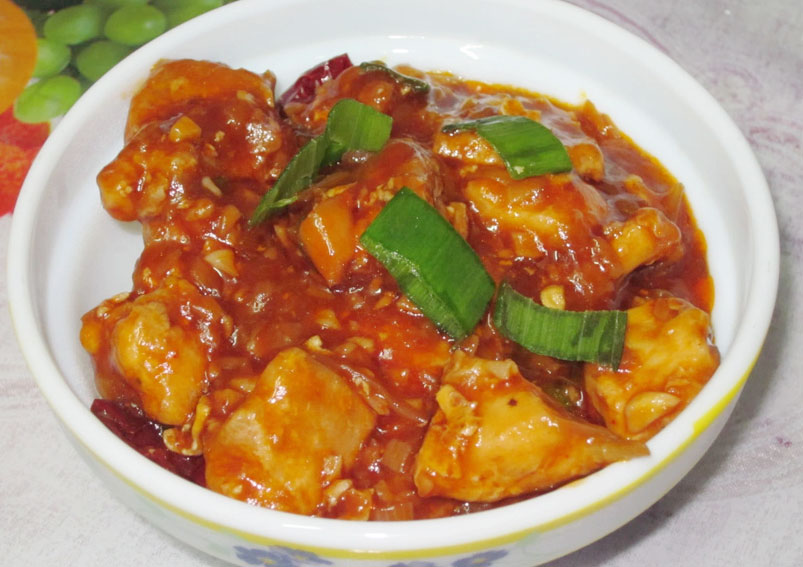 Schezwan Chicken is one of the popular chicken appetizers served across the globe. This chicken recipe is originated from the Chinese Cuisine. It is a simple dish and easy to cook. This is usually served with white rice. It gets the dark color from soya sauce, sugar, and red chili sauce. Follow this recipe.
Ingredients
½ poundskinless, boneless chicken breast (or fillets), chopped bite size
1 largeegg, whisked
2 tspcornstarch
2 tbspvegetable oil (or peanut oil)
2garlic cloves, minced
1thumb size piece of ginger, peeled and finely chopped
1onion, julienne
½green bell pepper, julienne
½red bell pepper, julienne
10shiitake mushrooms (or button mushrooms), julienne
3scallions, finely chopped
For the sauce:
1 tbsp(gehun ka atta) for rolling
¼ cupchicken stock
1½ tbspsoya sauce
½ tbsprice vinegar
1 tspcornstarch
Directions
For Marinating the Chicken
In a bowl, mix egg and cornstarch and season with a little salt and pepper.
Add chicken pieces and marinade for 5 minutes.
For making the sauce
Add all the ingredients for the sauce into a bowl and whisk until well blended.
In a pan over medium- high heat, add 1 tbsp vegetable oil.
For frying the marinated Chicken.
Drop chicken pieces and cook until both sides are golden brown.
Remove chicken from the pan and transfer it into a plate.
How to proceed
Add 1 tbsp vegetable oil to the pan over medium- high heat and add garlic and ginger. Cook for 1 minute and add onions, green and red bell pepper and shiitake mushrooms. Cook for 5 minutes.
Add the chicken pieces and the sauce.
Stir and coat vegetables and chicken with the sauce for 1 minute and turn the heat off.
Transfer to a plate or bowl.
Serve Szechuan chicken with white rice.
This Szechuan Chicken Recipe is very high in pantothenic acid, selenium, vitamin C.
Nutrition Information
343g Calories: 284 Fat: 10.7g Saturated fat: 2.6g Trans fat: 0.0g Carbohydrates: 32.6g Sugar: 9.1g Sodium: 885mg Fiber: 5.3g Protein: 18.3g Cholesterol: 79mg.
Also, Read- Egg Pepper Fry Recipe
By Meghna Nath
This Recipe Rate :
(0) Reviews