Easy Steamed Wonton Recipe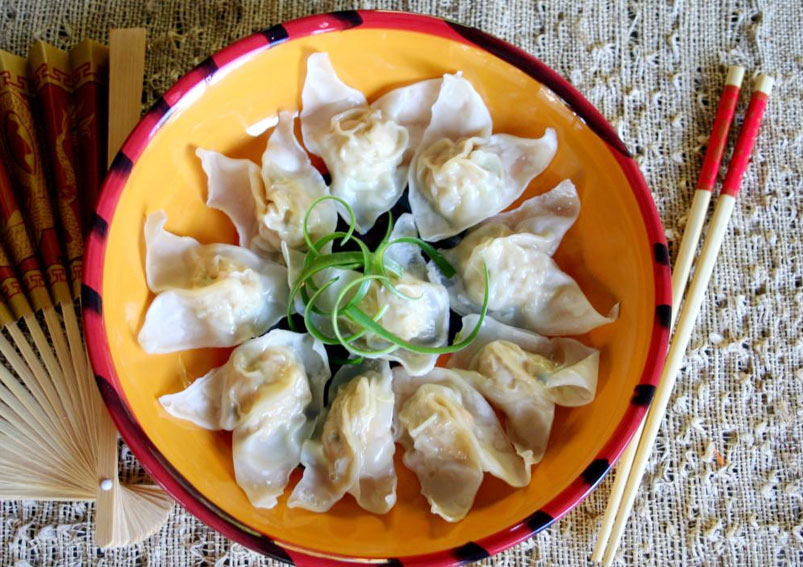 Wonton is an authentic Chinese dish. Wontons are small round dumplings or roll with a savory filling inside. This Wonton is usually steamed.It is a tasty and healthy snack. Try out this recipe.
Ingredients
For The Stuffing
1 tbspoil
1 cupfinely chopped cabbage
1/4 cupfinely chopped spring onions whites
1/2 cupgrated carrot
3/4 cupbean sprouts
3/4 cupboiled noodles
1 tspsoya sauce
saltto taste
Other Ingredients
25wonton wrappers(easily available in the market)
1/4 tspoil for greasing
3 tbspplain flour (maida) dissolved in 1/4 cup water
1 tbspoil
2 tspchopped garlic (lehsun)
1/2 tspchopped green chilies
2 tbspchopped spring onion greens
saltto taste
Directions
For the stuffing
Heat the oil in a wok / kadhai on a high flame till it smokes.
Add the cabbage, spring onion whites, carrots, bean sprouts and saute on a high flame for 2 to 3 minutes.
Add the noodles, soya sauce and salt and toss well.
Keep it aside.
How to proceed
Place a wonton wrapper on a clean, flat surface.
Place a little stuffing in the center, apply a little flour paste along the edges and fold over to make a semi-circle. Bring the ends together and press well.
Arrange half the wontons on a greased sieve and steam for 5 minutes.
For the tempering, heat the oil in a wok/ kadhai on a high flame.
Add the garlic, green chilies and spring onion greens and salt and saute on a high flame for a few seconds.
Pour the tempering over the steamed wontons and toss them gently.
Serve hot with green garlic sauce and chili garlic sauce.
Variation:
Instead of steaming the wonton at step 4, you can also deep-fry them in hot oil till they are golden brown in color.
Also, Read Chicken Lollipop Recipe Indian Style
BY Meghna Nath
This Recipe Rate :
(0) Reviews