Classic Egg Fried Rice Recipe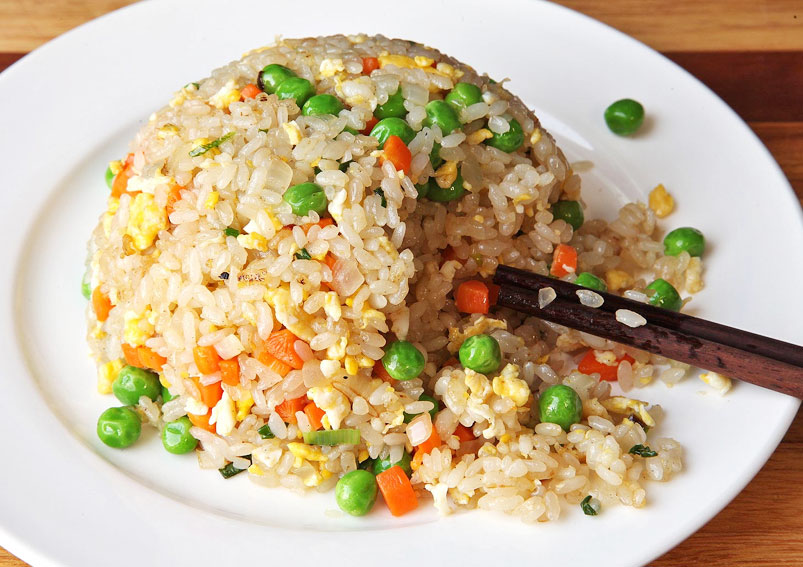 Egg Fried Rice is a very simple and popular recipe. This recipe is easy to prepare and taste great as a meal. It is a perfect egg delight for dinners, buffets or parties. Let's have a look how to prepare this recipe.
Ingredients
1

Egg

2 tspsesame oil
2 tbspvegetable oil
200g/7ozlong-grain rice, cooked rice
100g/4ozfrozen peas, defrosted (rinse under warm water)
4spring onions, finely chopped
100g/4ozbeansprouts (optional)
1-2 tspsoya sauce
groundwhite pepper
Directions
Beat the egg and sesame oil in a and keep it aside.
Heat the vegetable oil in a wok or large frying pan.
When it's shimmering and almost smoking, add the rice and stir-fry for about 3-4 minutes until completely heated through.
Add the peas, spring onions and beansprouts, if using.
Stir-fry, mix the rice constantly around the pan, for about 3 minutes.
Season well with soya sauce and pepper, then push to one side of the pan.
Pour the beaten egg mixture into the other side and leave for about 10 seconds so it begins to set.
Use a chopstick, briskly swirl around the egg to break it up and then tosswith the rice.
Stir-fry for a minute and serve it.
Tips
You can include some extras like chopped ham, cooked prawns or sweetcorn, add them along with the peas.
Also, Read Navaratan pulav recipe
By Meghna Nath
This Recipe Rate :
(0) Reviews