Quick Shrikhand Recipe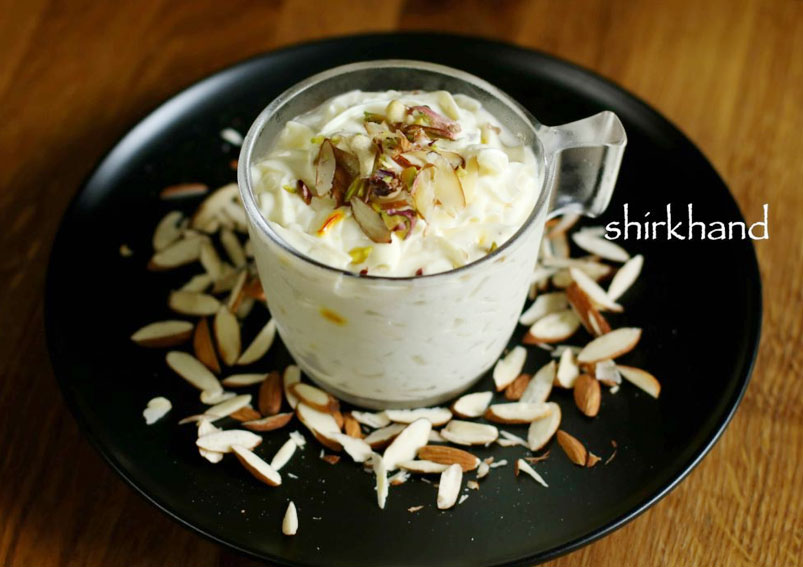 Shrikhand is a magical transformation of simple crud into a delicacy, by the simple procedure. It involves no cooking and is perfect for any festival. Make this recipe on this Shivaratri.
Ingredients
1-1/2 cupsfull-fat curd (dahi)
5 tbsppowdered sugar
1/2 tspcardamom (elaichi) powder
a fewsaffron (kesar) strands dissolved in 1 tbsp warm water
For The Garnish
1 tbspalmond (badam) slivers
1 tbsppistachio slivers
Directions
Dissolve the saffron strands in 1 tbsp of warm water and keep it aside.
Place the curd in a muslin cloth and squeeze the curd in the muslin cloth to remove all the excess water and discard the water.
Transfer the hung curd into a deep bowl, add powdered sugar and mix it well by using a whisk.
Add cardamom powder, and saffron-water mixture and again mix it well by using a whisk.
Pour the shrikhand into a serving bowl, garnish with almond and pistachio slivers and refrigerate for at least an hour.
Serve it chill.
Notes
Dissolving saffron (kesar) in warm water or milk, which is very important to bring out its full color and flavor.
So, never throw the saffron directly into the dish in a hurry without dissolving it first and also remember that this is best done with your fingers than using a spoon.
Check More Festivals Recipes
Meghna Nath
This Recipe Rate :
(0) Reviews