Healthy And Tasty Vegetable Stew Recipe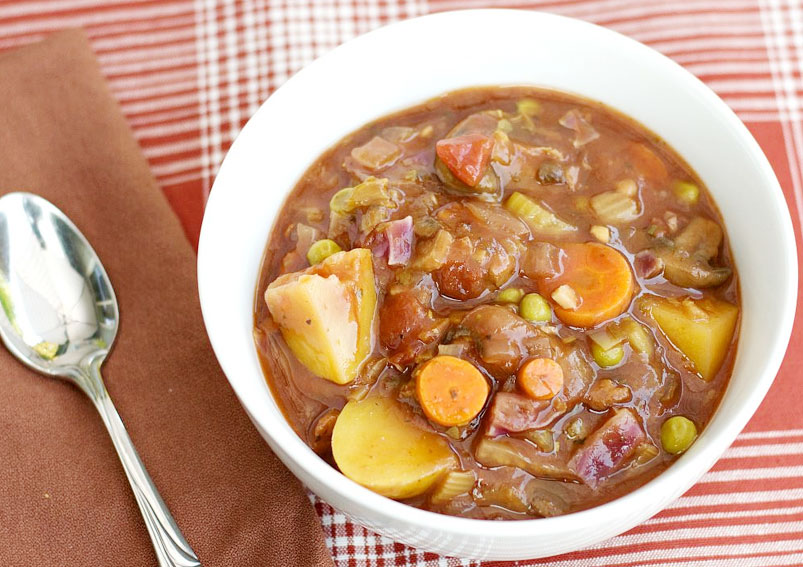 Vegetable Stew is so easy to prepare. You just need to cook the veggies with some spices and herb. Just serve the stew with steamed rice. It is nutritious and healthy as it contains lots of fresh vegetables. So let's follow this healthy recipe.
Ingredients
1 tablespoonvegetable oil
1-1⁄2 cupssliced onions
2garlic cloves, minced
1 cupcarrot, cut into 1-inch-thick slices
1 cupcelery, cut into 1-inch-thick slices
4 cupsmushrooms, cut into quarters
3 medium potatoes, unpeeled, cut into 1-inch chunks
1 (1 lb)can tomatoes, undrained, coarsely chopped
2 cupscooked kidney beans (12 ounces)
1 (8 ounce)can tomato sauce
1 cupwater
1 teaspoondried thyme
1 bayleaf
salt and pepperto taste
3 tablespoonsflour
1⁄4 cupwater
1⁄4 cupred wine
Directions
Heat oil in a saucepan over medium heat.
Add onions, garlic, carrots, celery, and mushrooms.
Cook for 10 minutes and stir frequently.
Add shredded chicken and mix it well.
Add water, if necessary, to prevent sticking.
Add remaining ingredients, except flour, 1/4 cup water, and wine.
Cover it with the lid and cook it on a low flame for 30 minutes, or until vegetables are tender.
Stir occasionally.
In a small bowl, gradually stir flour into 1/4 cup water until smooth.
Add the flour mixture to the stew, along with wine.
Cook for 5 more minutes.
Remove and discard bay leaf before serving.
The health benefits of vegetables usually show in long run by improving your overall health and keeping the internal systems in perfect condition. The consumption of vegetables takes care of your digestive, excretory, and skeletal system. By including vegetables in your diet, you are being benefited with abundant antioxidants that keep away from diseases like cancer, cardiovascular problems, and strokes.
Also, Read Masala Aloo Curry
Meghna Nath
This Recipe Rate :
(0) Reviews