Easy Pan/Tawa Pizza Recipe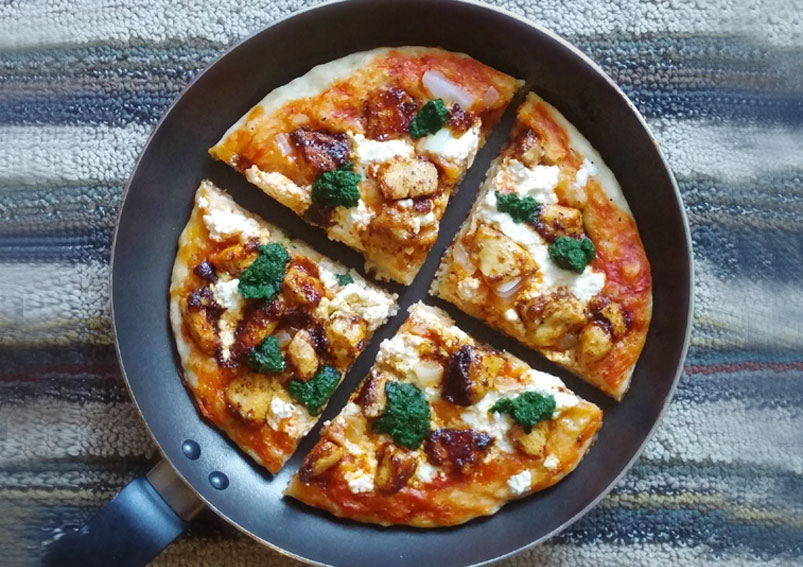 Surprise, surprise! Now, you can make mouthwatering pizza at home, even if you do not have a microwave oven. All you need is a broad non-stick pan. This delicious Pan/Tawa Pizza is colorful and attractive with a range of lip-smacking toppings. You will simply fall in love with this pizza.
Ingredients
For making dough
2 cupMaida (all purpose flour)
2 tbspOil
½ tspSalt
1 tspSugar
1 tspInstant yeast
(Tip: For those who want yeast-free pizza. They can use both baking soda as well as baking powder instead of yeast )
For pizza topping
1/2Capsicum
1 nosOnion
1 nosTomato
½ cupPizza sauce
½ cupMozzarella cheese
½ tspItalian mix herbs / Oregano
Directions
How to make Pizza dough on Tawa
Strain maida in a bowl, add dry instant yeast, oil, salt and sugar.
Mix all ingredients well with the help of lukewarm water and knead the flour.
Knead the dough for 5-7 minutes until it becomes soft.
Grease a bowl and place dough for 2 hours so that it gets fermented well.
Prepare topping for the pizza
Cut the capsicum, discard all its seeds and slice it thinly or as per your choice.
Cut onion in semi-circle and tomatoes in small round pieces.
Cook capsicum and vegetables for 2 minutes in 1/2 tbsp of oil, stir well.
In the pan to cook tomatoes, flip tomatoes after 2 seconds so that it can be cooked from both the sides.
Take half amount of pizza dough and make a round ball and with the help of dry maida make a ½ cm thick chapatti with a diameter of 10-12 inch.
Preheat a pan or tawa.( If you are not using non-stick pan), then grease it with a little oil and place pizza dough inside it.
Cover it and cook for 2 minutes or until the lower side gets a little brown.
Flip it upside down and reduce the flame to minimum.
Garnish pizza with topping.
Firstly layer pizza sauce and then place capsicum, onion, and tomato on the pizza.
Sprinkle grated mozzarella cheese.
Cover the pizza and cook for 5-6 minutes on medium flame until the cheese gets melted and the lower side gets a little brown.
Keep checking after every 2 minutes.
Sprinkle some oregano on the pizza.
Serve hot pizza and enjoy it.
(Note: If you are using dry yeast instead of instant yeast, then mix sugar and lukewarm milk in a bowl so that it becomes active.)
Also, Read Aloo Masala Grilled Sandwich
Meghna Nath
This Recipe Rate :
(0) Reviews