Egg Puffs Recipe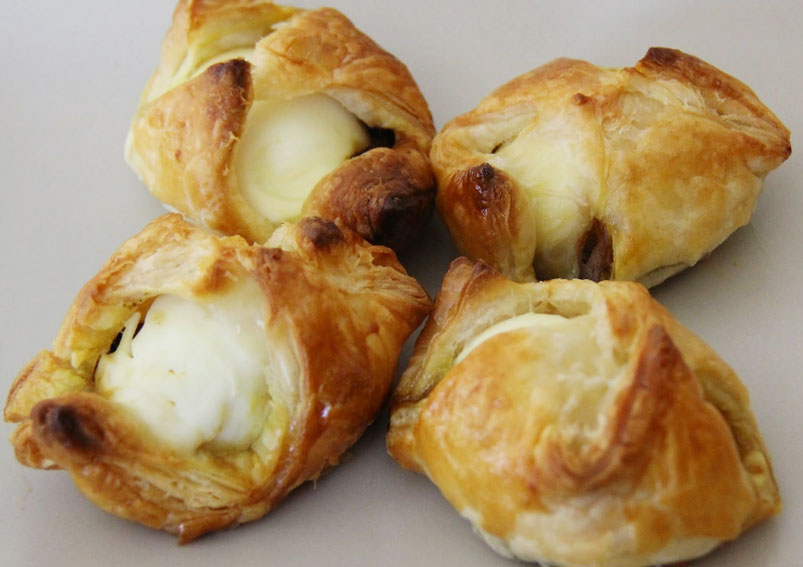 Egg Puffs are a popular Indian street food. Egg puffs are basically the traditional puff pastry which is stuffed with boiled egg and baked to a crispy flaky crust. Now, lets prepare this puffs at home.
Ingredients
1 sheet

Puff pastry sheets

(thawed)( easily available in the market)
2Boiled eggs (cut into half)
1 medium sizeOnion (chopped lengthwise)
1/2 tspGinger garlic paste
1/4 - 1/2 tspAniseed powde
1/4 - 1/2 tspGaram masala
1/4 tspRed chilly powder
1 (beaten)Egg white (optional)
2 tbspOil
Saltto taste
Directions
For the stuffing
Heat oil in the pan & fry ginger-garlic paste.
Add the onions, salt & fry well.
Add the chilly powder, garam masala powder & aniseed powder.
Now add the eggs & mix gently.
Switch off the flame & allow it to cool completely.
For the Puff
Cut square shapes out of the pastry sheet (approximately 3 inches each side).
Now place the masala with 1/2 egg in the center of the square sheet.
Now fold the corners of the sheet to cover the egg masala.
Brush the egg white on top of the puff pastries.
Preheat the oven to 350 degrees Fahrenheit.
Place the puff pastries & bake it for 20 - 30 minutes or till the top layer becomes golden brown in color.
Tips
Do not place the stuffing when it is hot or warm.
This makes the butter in the pastries to melt & become loose.
Work on the pastry sheets when it is slightly chill. So that, handling becomes easy.
If you feel the sheet are not comfortable to handle then put it in the fridge for few minutes.
So that it becomes cool & easy for shaping.
Also, Read Maggi Veg Omelette (Best Snacks Recipe) Recipe
Meghna Nath
This Recipe Rate :
(0) Reviews