Crispy Fried Ice Cream Recipe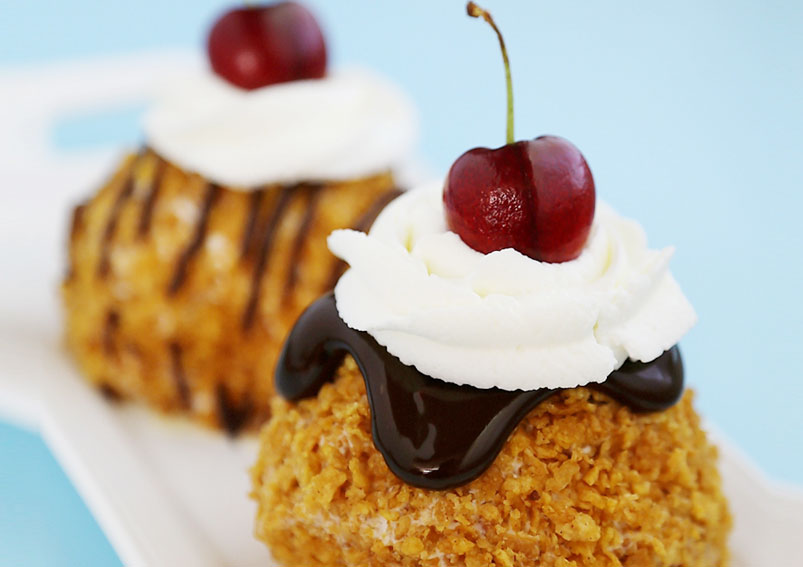 Fried ice cream is a melt in the mouth dessert that your family and guest will relish and enjoy. Fried ice cream is a Mexican dessert. It is crunchy on outside and creamy from inside. It is easy to make.
Ingredients
1 quartquart Vanilla Ice Cream
1 cupCrushed Frosted Cornflakes
1 cupSweetened Coconut Flakes, or 1 cup Chopped Walnuts
2Large Eggs
2 tablespoonsSugar
Vegetable oilfor frying
Hot ChocolateSauce

Chocolate

Sauce, optional
Whipped Creamoptional
Directions
Scoop four balls of ice cream and place on a waxed paper lined sheet and cover with plastic wrap and freeze for at least 2 hours.
In a bowl, combine the cornflakes crumbs with either the coconut, walnuts or cookie crumbs (or any o f your choice ).
Spread the mixture in a shallow dish.
Dip the ice cream balls in the crumb mixture and freeze for 30 minutes.
In a bowl, beat the eggs and sugar.
Remove the coated ice cream from the freezer and dip the coated ice cream balls into the eggs, then roll in the crumb mixture, coat completely.
Freeze for 1 hour. (If necessary, or for a thicker crust, roll again in eggs and crumbs until the balls are completely coated.)
Heat the oil in a large pot or fryer to 400 degrees F.
Drop the balls into the oil and fry until golden brown, about 30 seconds to 1 minute.
Remove from the oil and place in a dessert bowl.
Drizzle with chocolate sauce and whipped cream, as desired.
Also, Read Butterscotch Sauce Sundae Recipe
Meghna Nath
This Recipe Rate :
(0) Reviews