Classic Buttermilk Waffles Recipe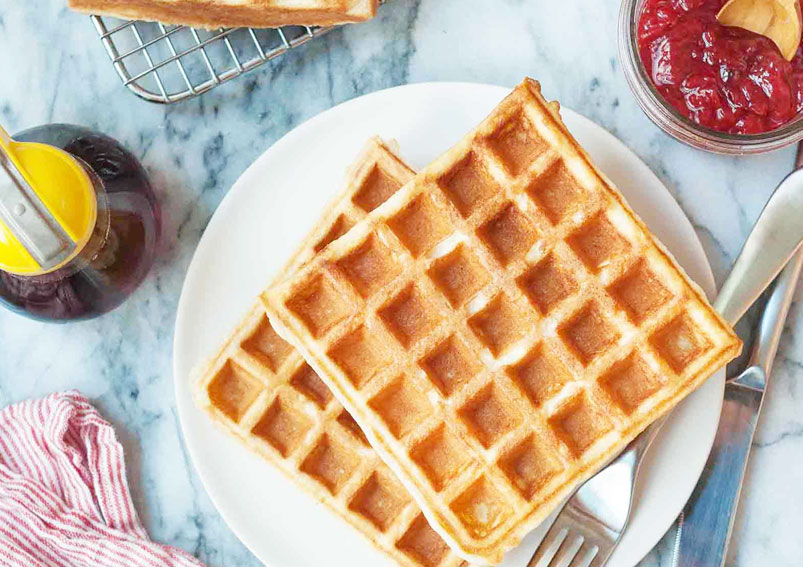 Waffles are the delicious combo of warm, fluffy, golden and crunchy. Waffles are one favorite item. It is a perfect breakfast dish. Waffles are leavened batter or dough cooked between two plates, patterned to give a characteristic size, shape and surface impression. Try this Classic Buttermilk Waffles Recipe
Ingredients
2 cupsall-purpose flour (spooned and leveled)
2 tablespoonssugar
2 teaspoonsbaking powder
1 teaspoonbaking soda
1/2 teaspoonsalt
2 cupslow-fat buttermilk
1/2 cup(1 stick) unsalted butter, melted
2 largeeggs
Vegetable oilfor a waffle iron
Maple-Walnut Saucefor topping
Blueberry Saucefor topping
Banana-CaramelSauce for topping
Berries-and-Creamfor topping
Directions
Preheat oven to 275 degrees; set a rack on a baking sheet, and place in oven.
In a medium bowl, whisk together flour, sugar, baking powder, baking soda, and salt; set aside.
In a large bowl, whisk together buttermilk, butter, and eggs.
Add flour mixture to the egg mixture, and mix till the batter is combined.
Heat waffle iron according to manufacturer's instructions given in your in a waffle iron.
Brush the waffle iron with oil.
Pour batter onto iron (amount depends on iron size), leaving a 1/2-inch border on all sides (spread batter if necessary).
Close iron and cook until waffles are golden brown and crisp.
Cook for 3 to 5 minutes. And transfer to rack in oven to keep warm.
Top with any sauce of your choice and garnish with cream and berry.
Also, Read Apple & Sausage Macaroni and Cheese Recipe
Meghna Nath
This Recipe Rate :
(0) Reviews