KFC CHICKEN POP CORN Recipe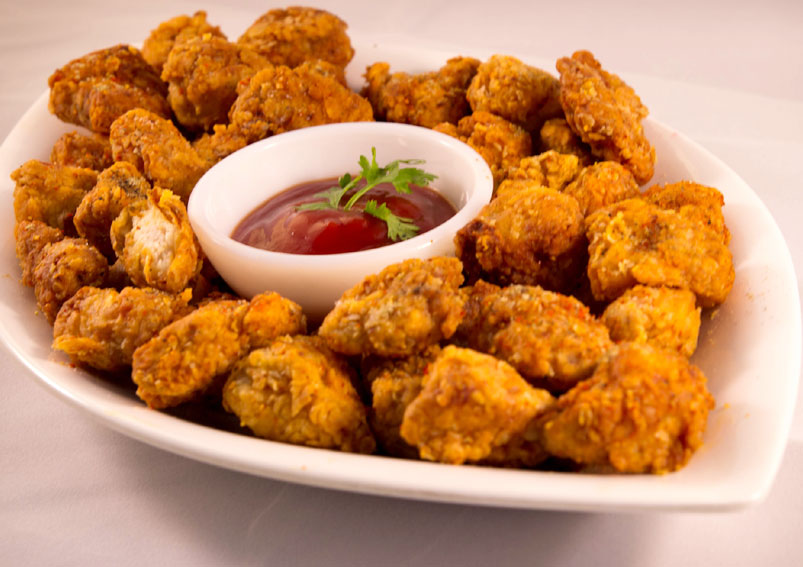 No need of going to the restaurant. Have delicious KFC CHICKEN Pop Corn at your home. The most chicken lover would not miss the opportunity of tasting these little bits of crispy KFC CHICKEN POP CORN.
Ingredients
300 grams

Chicken

Boneless
Oilfor Frying
For the Marinade
1 tablespoonGinger Garlic paste
1 teaspoonOregano dried
1 teaspoonChili Powder or Paprika Powder
Saltto taste
For the Coating
3/4 cupFlour
1/2 cupButtermilk
3/4 cupPanko Breadcrumbs
to tasteSalt and Pepper
For the Spice Mix
1/2 teaspoonOnion Powder
1/2 teaspoonGarlic Powder
1-1/2 teaspoonsKashmiri Chili Powder or Paprika Powder
3/4 teaspoonSugar Powdered
1/2 teaspoonOregano dried
Directions
Cut the boneless chicken into 1- inch bite sized pieces.
Mix together all the ingredients under marinade and rub all over the chicken.
Marinate for at least half an hour.
Season the flour and panko breadcrumbs for coating with salt and pepper.
Place flour, buttermilk, and breadcrumbs next to each other along with the chicken.
Arrange a wire rack to place the chicken once coated.
Coat the chicken with the flour and dip it in buttermilk, and then coat with breadcrumbs
Place them on the wire rack
Heat oil for frying and deep fry in batches on medium heat till the chicken is cooked through and lightly brown on the outside.
In the meanwhile, mix together all the ingredients under spice mix.
Dust the chicken pieces with the spice mix as soon as they are fried.
This helps to coat the mixture all over the chicken.
Serve hot with some mayo dipping sauce or schezwan sauce.
Also, Read Chilled Mojitos Recipe
Meghna Nath
This Recipe Rate :
(0) Reviews