Vegan Thai Coconut Vegetable Curry Recipe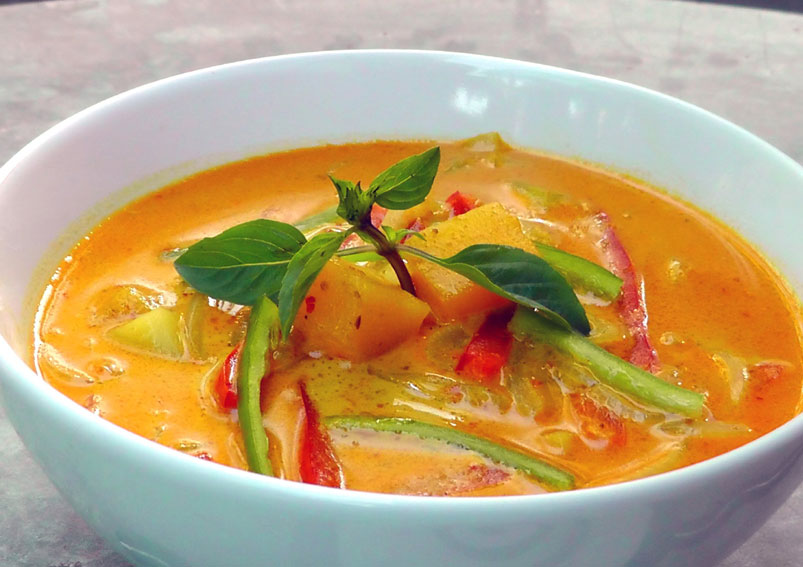 This Vegan Thai Coconut Vegetable Curry is Tasty and healthy. This curry has a rich taste of coconut milk. The veggies in this preparation have been chosen to balance color, flavor, and texture. Let's follow this recipe.
Ingredients
2 TbspCoconut Oil
2Green Onions (chopped)
4- clovesGarlic (finely grated)
1 cupCauliflower (chopped)
1 cupCarrots (chopped)
1 cupMushrooms (chopped)
2 TbspCurry Powder(easily available in the market
1-15oz canChickpeas (drained)
1-15oz canDiced Tomatoes (drained; but keep juice to adjust consistency later, if needed)
1 cupFrozen Peas
1-15 oz canCoconut Milk
1/2 tspKosher Salt
2 cupsfresh Kale (chopped)
Cilantro and Limefor garnish
Directions
Gather all the ingredients needed for this curry and measure, chop, dice, etc.
In a 3-quart skillet or pot, heat coconut oil over medium flame.
Add onions, garlic, cauliflower, carrots, and mushrooms and stir until vegetables become fragrant and slightly soft.
Cook for 4 minutes.
Add curry powder to veggies and stir till it get to mix with the veggies.
Add chickpeas, tomatoes, peas, coconut milk, and salt.
Boil it for 15 minutes in high flame.
Add Kale (or other greens) and cover the lid and cook for 2 minutes.
Garnish with lime wedges and cilantro.
Notes

If you feel more liquid is needed then add juice from the canned tomatoes.

Serve warm over brown rice or Quinoa; garnish with lime wedges and cilantro.

Also, Read Buttermilk Curry - Moru Curry Recipe

By Meghna
This Recipe Rate :
(0) Reviews