Tricolor\Tiranga Sandwich Recipe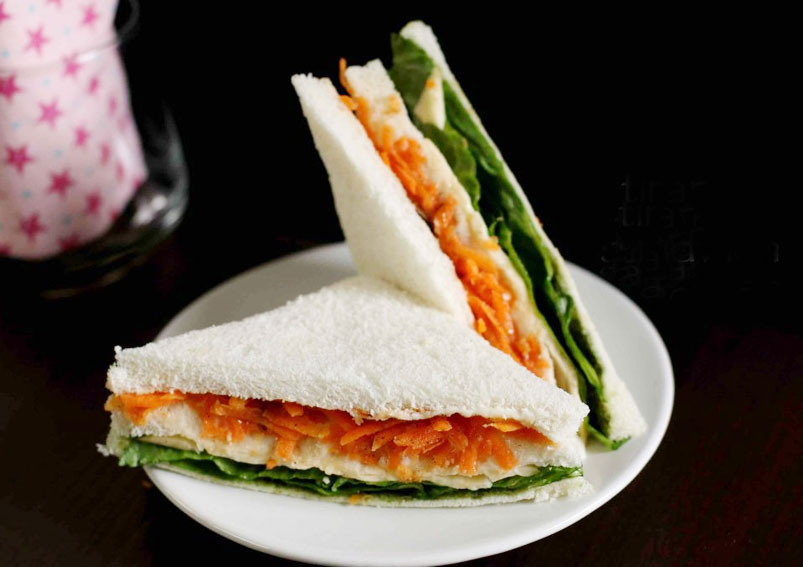 The Tricolor\Triangle sandwich is a tricolor sandwich recipe with different colored pastes used as a spread and a range of vegetable added as a filling. Enjoy the tiranga sandwich as a healthy tiffin or a delicious snack item.
Ingredients
For saffron layer
1/2-cupCarrot puree
1 tablespoonsTomato ketchup
1 tablespoonMayonnaise
¼ cup, finely choppedOnion
Saltto taste
For green layer
1/2 cupSpinach puree
Saltto taste
a pinchPepper powder
1/4cupMayonnaise
For white layer
1/2 cupCottage cheese (paneer)
1/2 teaspoonchopped Coriander
¼ cupOnion , chopped finely
Milkas required
a pinchPepper powder
Saltto taste
Directions
For saffron layer
Peel and chop carrots and blanch them for 2-3 minutes.
Blend the carrots in blender.
In a bowl add carrots, tomato ketchup, chopped onion, salt, and pepper.
Add tomato ketchup, chopped onion, salt and pepper and mix it well.
For the white layer
Take paneer (cottage cheese) in a blender and blend to make a smooth paste. If it's too thick, you can add one or more tablespoons of milk.( the consistency of the paste should be smooth
Add chopped coriander, onion, salt and pepper and paneer paste in a bowl.
Mix it well
For green layer
Blanch spinach leaves in hot water for 5 minutes.
Blend the spinach in a blender.
Add mayonnaise, salt, and spinach in a bowl.
Mix it well.
Assembling the sandwich
Trim the sides of all the bread slices.
Apply carrot, spinach and paneer spread on one slice of bread each.
Arrange green, white, orange slices on above the other and top with a plain slice.
Press the slices slightly to stick together and cut diagonally to form a triangular shape.
After having the bread, have a Fresh Lime Juice and complete your meal.
Meghna Nath
This Recipe Rate :
(0) Reviews