Roasted Tomato Soup Recipe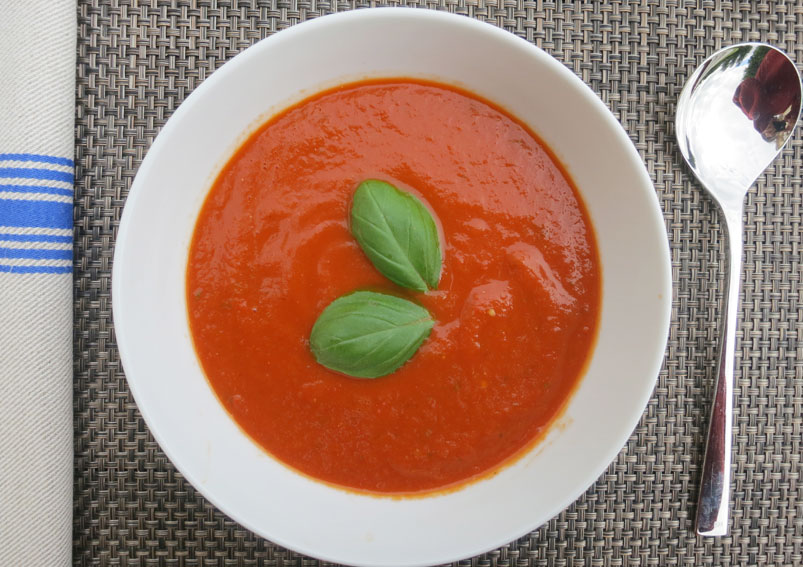 Roasted Tomato Soup is simple and easy soup recipe. This soup is packed with the goodness of folic acid and vitamin A from tomatoes. The high fiber content in this soup helps to remove the excess fat from the body. Follow this healthy recipe.
Ingredients
2 lbsplum

Tomatoes

6Garlic Cloves, Peeled and Whole
1⁄4 mediumRed Onion
1 teaspoonOlive Oil
1 tablespoonBalsamic Vinegar
2sprigs Oregano, remove leaves from the stem
3 -4Basil Leaves
Saltto taste
Pepperto taste
2 cupsfat-free Vegetable Broth or 2 cups fat-free Chicken Broth or 2 cups water
1⁄4 cupParmesan cheese shaved or grated (optional)
Directions
Preheat the oven to 375 degrees.
Wash and cut tomatoes, place in a shallow baking dish.
Add onion pieces, garlic, oregano and basil to the baking dish along with the tomatoes.
Drizzle vegetables with olive oil and balsamic vinegar.
Season with salt and pepper.
Bake for 45 minutes.
Place roasted vegetables in food processor or blender and slowly add broth or water until soup has desired consistency.
Continue blending until smooth.
Serve garnished with cheese if desired.
The health benefits of tomatoes include improved eyesight, good stomach health, and reduced blood pressure, as well as relief from diabetes, skin problems, and urinary tract infections.
Also, Read Green Peas Soup Recipe
Meghna Nath
This Recipe Rate :
(0) Reviews