Chocolate Swiss Rolls Recipe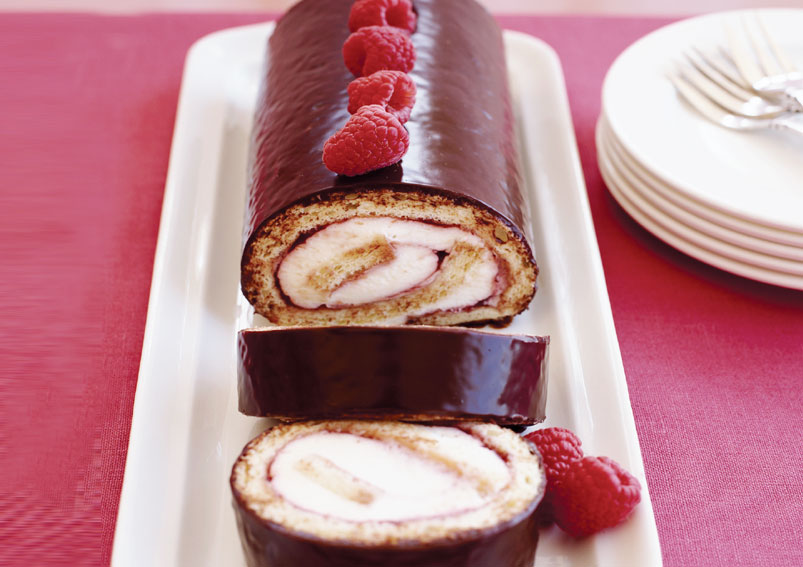 Chocolate Swiss Rolls is a traditional, old fashioned tea time treats that are also served as a dessert. It is an easy dessert prepared with cake. It is basically a sponge cake filled with a delicate layer of creamy filling like chocolate and whipped cream. You can use any filling of your choice.
Ingredients
2 tbspcocoa powder
1/4 cup

chocolate

sauce
melted butterfor greasing
2 largeeggs
1/4 cupcastor sugar
1/4 cupplain flour (maida)
1/2 tspvanilla essence
2 tbsppowdered sugar for sprinkling
1/4 cupbeaten whipped cream
Directions
Grease a 200 mm. X 150 mm. (10" x 6") aluminum tin with butter, place a butter paper of the same size over it and again grease the butter paper with butter and put it aside.
Mix eggs and castor sugar in a bowl, mix well and beat using an electric beater for 3 to 4 minutes on a medium speed, till it is light and fluffy.
Add the plain flour, cocoa powder, and vanilla essence and mix gently with the help of a spatula.
Transfer the batter into the greased tin and bake a pre-heated at 200°c (400°f) for 8 minutes.
Keep it aside to cool slightly.
Once it is slightly cooled, loosen the sides of the cake using a sharp knife.
Sprinkle the powdered sugar evenly on a clean, dry surface and invert the cake tin over it and slowly peel the butter paper and discard it.
Spread the whipped cream evenly over the cake and roll it gently from one side to the other to form a Swiss roll.
Place the roll on a serving plate and apply the chocolate sauce evenly over it with the help of a palette knife.
Cut the roll into equal portions using a sharp knife.
Serve it.
Also, Read Easy Fruit Bread Recipe
Meghna Nath
This Recipe Rate :
(0) Reviews