Homemade Ice-cream Sandwich Recipe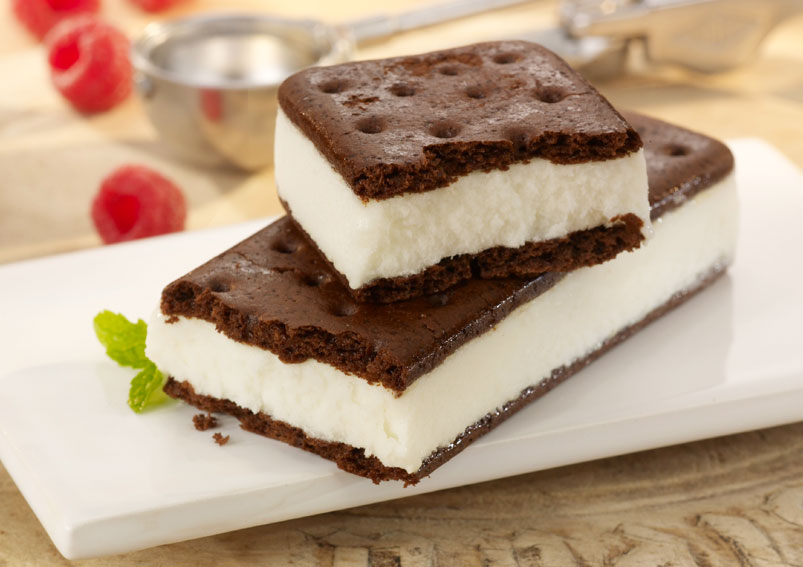 Delicious chocolate cookies are sandwiched with ice cream to make a treat that is equally irresistible for kid and adults. It is easy to make and handy to serve. It can be served as a surprise snack on a hot summer day
Ingredients
1/2 cuppurpose flour
1/2 cupDutch process cocoa powder
1/2 teaspoonfine salt
1/4 teaspoonbaking powder
6 tablespoonsunsalted butter, softened
2 tablespoonshortening
1 cupsugar
2 largeeggs
1 teaspoon

vanilla

extract
2 (1-pint)containers ice cream (any flavor)
Coverage or Cover Egg
4Egg
SaltOregano dried
2 teaspoonCornflour
1/2 teaspoonBlack pepper
2 tablespoonsWater
Directions
Preheat the oven to 350 degrees F. Line 2 baking sheets with parchment paper.
For Making cookies
In a bowl whisk together the flour, cocoa powder, salt, and baking powder.
Ina bowl beat the butter, shortening, and sugar together with an electric mixer until fluffy.
Beat eggs and vanilla, till it is smooth and add flour mixture, stir until you have a smooth dough.
Us a 2 tablespoon cookie dough scoop, drop 6 mounds of dough on baking sheet, leave a couple inches between each cookie.
Bake until the cookies are firm the around the edges and soft in the middle andbake it for 15 minutes. (For even baking, rotate the pans from top to bottom and back to front halfway through baking.)
Use a spatula, transfer the cookies to a wire rack and cool down completely.
Assembling the sandwich
Scoop the ice cream into three even rounds.
Place the ice cream scoops on a baking sheet and freeze until ready to assemble the sandwiches.
Remove from the refrigerator and bring ice cream to room temperature and spread to the cookies
Serve the sandwiches immediately, or wrap individually in plastic wrap and freeze up to 1 week.
Also, Read Best Yogurt Mixed Berry Parfait Recipe
Meghna Nath
This Recipe Rate :
(0) Reviews