Healthy Breakfast Sandwich Recipe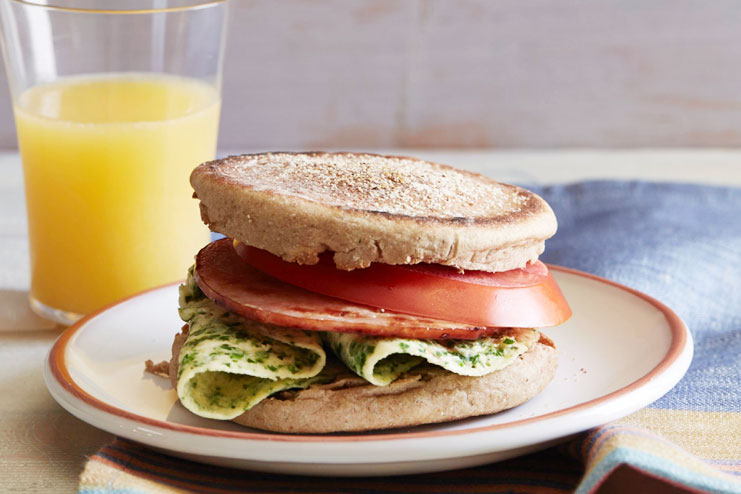 Make a kid-friendly breakfast. This Breakfast Sandwich is cheesy, juicy, easy and delicious. This breakfast sandwich is loaded with eggs, chives, and parsley. Make this Healthy Breakfast Sandwich Recipe at your home.
Ingredients
4Eggs
1/4 cupMinced Chives
1/4 cupMinced parsley
4-1/2 inchRound Slices Canadian Baco
1 largeBeefsteak Tomato, Sliced into 1/2-inch thick slices
Directions
Break eggs and egg whites into a bowl and whisk it.
Add chives and parsley and stir to incorporate.
Grease a large nonstick skillet with cooking spray.
Ladle 1/4 egg mixture into skillet and cook in omelet style, until eggs are cooked through, about 1 to 2 minutes per side.
Slide omelet onto a plate
cover with foil to keep warm.
In skillet, heat Canadian bacon until warm and cook for 1 to 2 minutes per side.
Toast English muffin, fold omelet into the toasted English muffin, then place omelet on 1 muffin half.
Top with a bacon slice, tomato, then top with another muffin half and serve it.
Per Serving
Calories 330; Total Fat 13 g; (Sat Fat 5 g, Mono Fat 3 g, Poly Fat 1 g); Protein 25 g; Carbohydrate 31 g; Fiber 5 g; Cholesterol 245 mg; Sodium 920 mg
Excellent source of Protein, Fiber, Vitamin A, Thiamine, Riboflavin, Niacin, Vitamin C, Vitamin K, Calcium, Manganese, Phosphorus, Selenium
Good source of Vitamin B6, Folate, Copper, Iodine, Iron, Magnesium, Potassium, Zinc.
Also, Read Egg and Mint Bread
Meghna Nath
This Recipe Rate :
(0) Reviews