How to make Shahi Tukra Recipe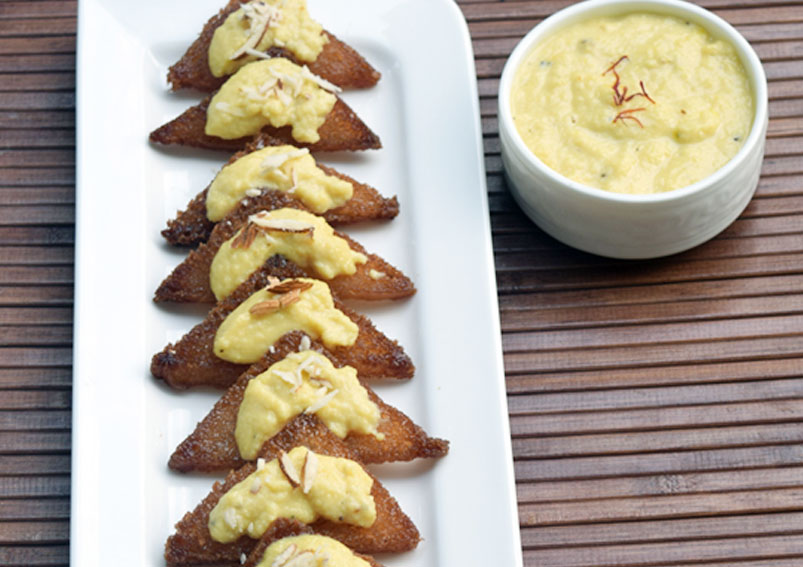 The word 'Shahi' means royal and tukra means 'a piece'. One piece of traditionally made Shahi Tukra will give you the feeling of royalty. This tukra is rich in taste, aroma, flavor and calories. This dessert is particularly meant for festive occasions.
Ingredients
800mlswhole milk
5green cardamom pods
2 tablespoonscaster sugar
For the bread
12slices white bread (cut the crust off)
Oil forshallow frying
1star anise
For the saffron syrup
200gmscaster sugar
150mlswater
Generouspinch of saffron
For the garnish
Sliversof pistachios
Roughlychopped almonds
Handfulof dried rose petals
Directions
Preheat the oven to 180c and grease the baking dish with butter.
In a heavy bottom saucepan boil milk on a low flame with the green cardamom pods.
Cook for an hour and stir constantly.
Add sugar and as the milk reduce to half, switch off the flame and cool slightly.
For the saffron syrup
Boil water with sugar and saffron .(crush the saffron slightly with your fingers before adding).
Cook for 7-10mins until sticky and syrupy.
For the Shahi Tukra
Heat the oil in a frying pan, add the star anise to flavor the oil.
Fry the slices of bread until light brown and drain on kitchen paper.
Dip each fried slice of bread in the sugar saffron syrup and lay on a baking dish.
Top with most of the cardamom flavored milk.
Top with half the almonds and pistachios.
Bake in the oven for 15minutes.
The bread will soak in the milk and form a crust over the top.
Cool slightly and top with remaining nuts, rose petals and serve.
Also, Read Lip Smacking Kesari Gujiya Recipe
Meghna Nath
This Recipe Rate :
(0) Reviews