Easy and Tasty Khandvi Recipe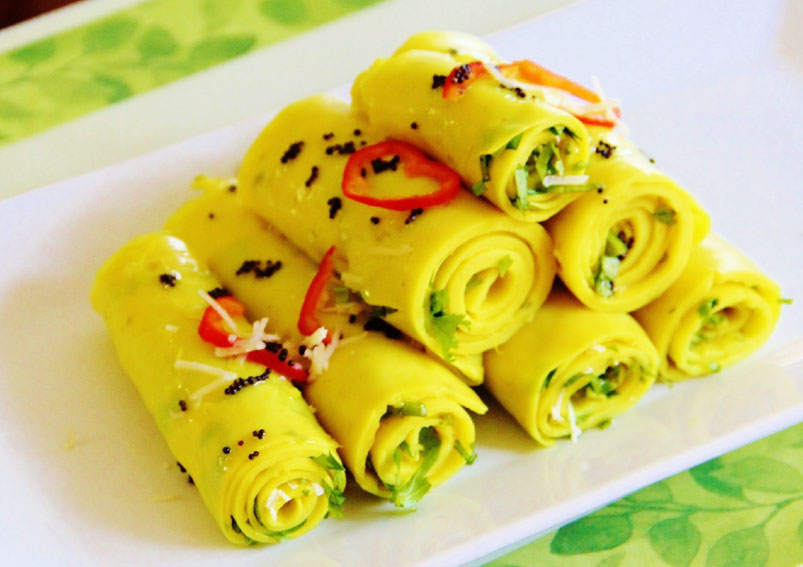 Khandvi is a mouthwatering traditional Gujarati snack prepared with gram flour and curd and few other spices. It is not easy to make but healthy as well. The simple yet aromatic seasoning of sauteed cumin, mustard, coriander, and coconut makes it simply irresistible. Follow this Easy and tasty Khandvi Recipe
Ingredients
For Khandvi
1/2 cupGram flour (besan)
1/4 cupCurd / yogurt (dahi)
1 cupWater
1/2 tspSalt
1/2 tspTurmeric powder (haldi)
1 tspGinger
For Garnishing
2 tspOil
1 tspMustard seeds (rai)
1 tbspCoconut freshly grated
3 tbspFresh Coriander (hara dhaniya) finely chopped
Directions
In a bowl add gram flour (besan) and curd and whisk both the ingredients well till a soft batter is formed. (Note: see that there are no lumps from)
Add ginger green chili paste, turmeric powder, and salt to the batter and mix it well.
Add water to the batter and mix it well.
Heat a pan and pour the batter into the pan and stir continuously.
The batter will slowly start to thicken andstir vigorously and evenly to avoid lump formation.
Once it becomes nice and thick and you feel it is done just test it on a small plate and see that you are able to roll it or not and if you can roll then your khandvi batter is ready.
Pour a ladleful of khandvi batter on a large plate and spread as thin as possible with the knife or with the back of a large flat spoon.
Let it cool down and cut into 2 inch wide strips and carefully roll each strip.
Place all the rolls in the serving dish.
Heat oil in tadka pan and add mustard seeds and curry leaves.
Pour the tadka on top of the khandvi.
Garnish it with the grated coconut and coriander leaves.
Gujarati Khandvi is ready to serve.
Also, Read Tasty Street Food Surti Locho Recipe
Meghna Nath
This Recipe Rate :
(0) Reviews