Brown Rice Pulao Recipe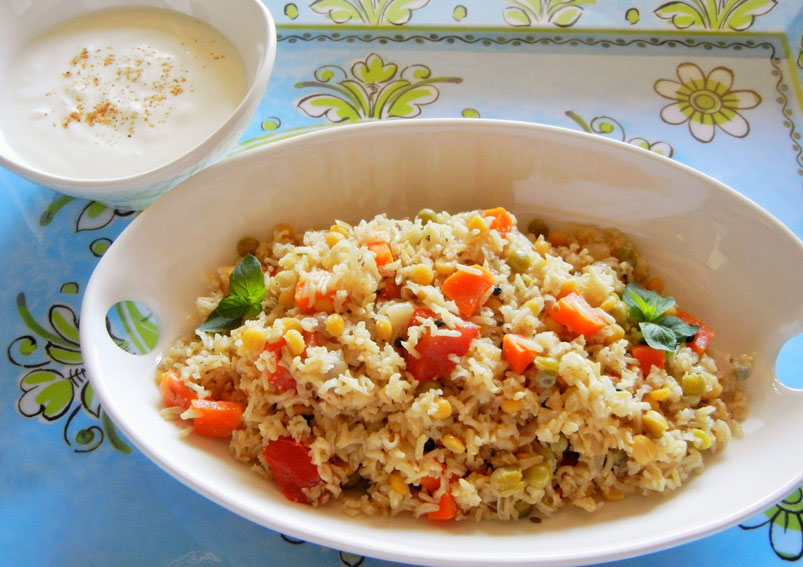 Brown rice pulao is a tasty rice dish made with brown rice. Pulao is a very tasty and easy to make a rice dish. This Pulao is a melange of vegetables like beans, broccoli, carrot and capsicum cooked along with rice and spices and is too healthy.
Ingredients
1carrot, chopped
1capsicum, chopped
1onion, chopped
1spring onion, chopped
1/2 cuppeas, shelled
1Lemon juice, extractedr
saltto taste
Grind to a powder
2Cloves
1Bay Leaf
1/2inch piece Cinnamon
1 podCardamom
Grind to a paste
3 to 4Green chilies
1inch piece Ginger
2cloves Garlic
2stalks Curry leaves
2stalks Basil leaves
2stalks Mint leaves
1/2 cupCoriander leaves
Directions
Boil two liters of water.
Add lemon juice, salt, and rice to the water.
Cover and cook the rice till it is almost done.
Drain out any excess water from the rice, and cover and keep it aside
Heat a non-stick pan, add onion and cook for 2-3 minutes.
Add ground powder and paste and cook for 2 minutes.
Transfer to a large microwave pan and add all other vegetables.
Add 1/2 cup water, cover loosely and microwave on high for 4-5 minutes
Repeat for 2 minutes if required and allow to stand covered for 2-3 minutes.
Remove lid, pour any excess liquid into the rice first and mix well.
Add cooked vegetables, remaining lemon juice and salt if required to the rice.
Mix well till the rice and vegetables are properly blended.
Retransfer to a microwave dish and micro on high for 1 minute.
Garnish with chopped coriander and serve piping hot.
Health benefits of brown rice include better functioning of the cardiovascular system, digestive system, brain and nervous system. It is loaded with powerful antioxidants which provide relief from a range of ailments such as hypertension, unhealthy levels of cholesterol, stress, mental depression and skin disorders.
Also, Read Healthy Ragi Roti Recipe
Meghna Nath
This Recipe Rate :
(0) Reviews