Tasty Spanish Omelet Recipe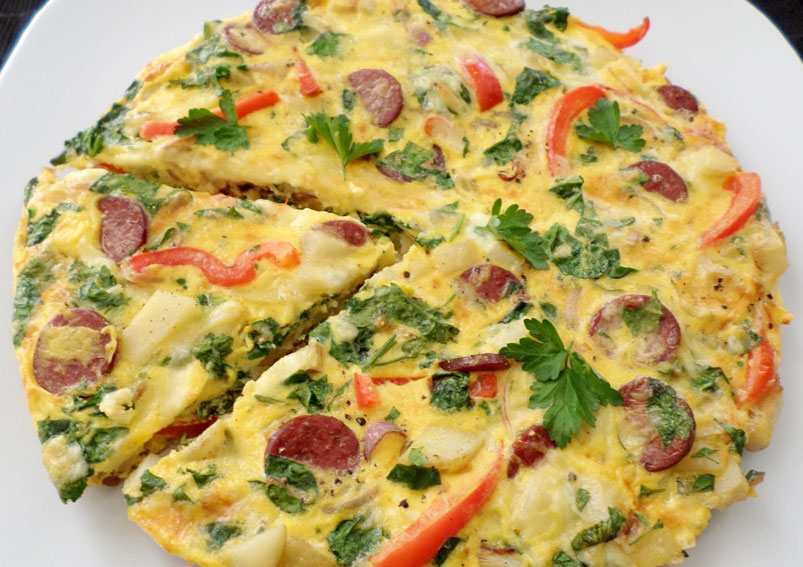 Spanish Omelet presents a hearty and traditional Spanish Omelet Recipe on your breakfast table.This classic evergreen recipe is a true winner in terms of flavor and mouth-feel. The eggs are beaten and spread like an omelet with potato slices and onions rings as a topping. Serve the Spanish Omelet with ketchup. Let's follow the recipe.
Ingredients
500gwaxy Potato, such as Charlotte
knobof Butter
2 smallOnion, finely sliced
1Red Pepper, finely chopped
8-9

Eggs

1 x 25gPack Chives
Directions
Finely slice the onions and chop the red pepper, discard the seeds of the pepper. Cut the potatoes into roughly ½ cm slices.
Heat a knob of butter in a medium (about 24cm) frying pan over a low heat and cook gently for 10- 15 minutes
Add the peppers and cook for 5 min.
Put the potatoes in a steamer over boiling water for 10 - 12 min to soften.
If you don't have a steamer, put in a saucepan, with boiling water and cook for 8 - 10 min and drain the water from potatoes.
Break the eggs into a jug and beat with a fork, season with a generous amount pepper and a pinch of salt.
Use scissors to snip the chives into small pieces and stir in.
Heat the grill and add butter to the frying pan and add the potatoes.
Pour the egg mixture into the pan with the potatoes.
Cook for 15 min until almost set and golden brown underneath. (you can use a slice to lift the omelet up and check).
Put the frying pan under the grill.
Make sure the handle is outside the oven as it will become very hot and can burn.
Cook for a minute and serve.
Also, Read Best Masala Omelet Recipe
Meghna Nath
This Recipe Rate :
(0) Reviews