Crunchy and Crispy Egg Devils Recipe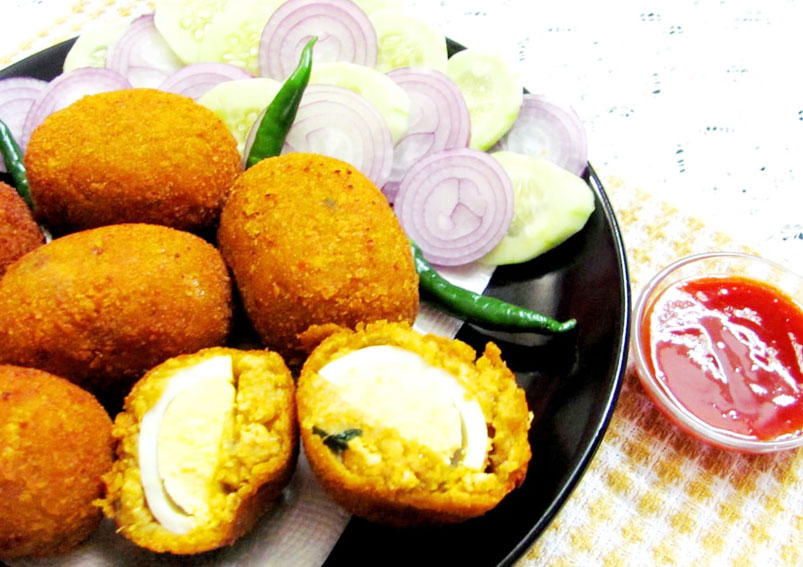 Try out this simple and easy recipe when you bore of eating simple egg dishes. This egg devil is available in almost every street food stall. These devils are made with half hard boiled eggs, wrapped with meat and potato mixture dipped in a batter, coated with bread crumbs and then deep fried. Try this Crunchy and crispy Egg Devils Recipe.
Ingredients
Filling
300 gmMinced meat
1 largePotatoes (boiled)
1 cupOnion finely sliced or chopped
½ cupFried onion
4-5Green chilies finely chopped
1Bay leaf
½ tspBengali garam masala / clove-cinnamon-cardamom powder
1 tspCumin powder
½ tspBlack pepper powder
½ tspRed chili powder
a handfulCoriander leaves (chopped)
Coating
1 cupGreen chilies
Flourto dust
2 eggsFor Egg batter
Other
Oilfor deep frying
Saltto taste
Directions
Prepare the filling
Heat a tablespoon oil in a pan,fry the onions and add the minced meat.
Add salt and spices.
Keep frying till the mince meat becomes tender.
Lower the heat and cook the meat till done.
Once cooled enough, add mashed boiled potatoes, green chilies, fried onion, coriander leaves and egg yolk.
Prepare the devil
Halve the eggs.
Dust the eggs lightly with flour.
Make small balls (golf ball size) of the mixture.
Cover the halved eggs with the mixture, evenly and there should not be gaps or any peeking holes.
Eggs should be nicely covered with the filling.
Once the devil is prepared, cover and keep it in the fridge for two hours (minimum).
Let the filling stick to the eggs nicely.
Coating and Deep frying
Beat the eggs in a bowl.
Spread the flour and breadcrumbs in a separate plate.
Ina deep frying pan heat the oil.
Take out the deviled eggs from the fridge, dust it with flour lightly, shaking off the extras, dip the devils in the egg batter, and then roll it in the breadcrumbs evenly.
Repeat the process once more.
Deep fry the deviled eggs in hot oil till you get the golden brown color.
Slot them out on the kitchen towel to absorb the extra oils.
Serve the deviled eggs with tomato ketchup and sliced raw onions and cucumbers or salad of your choice.
Notes
Instead of meat filling, you can use only potatoes or mixture of paneer and potatoes too.
Also, Read Making Process of Corn Rolls Recipe
Meghna Nath
This Recipe Rate :
(0) Reviews