Homemade Butter Biscuits Recipe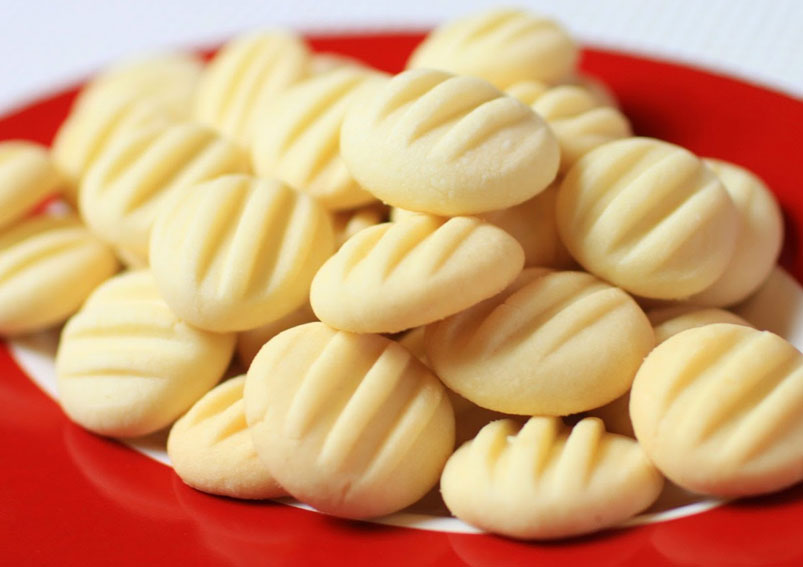 Everyone is found of biscuits. These Biscuits have a buttery taste and flavor and also are crispy. They make a nice festive gift. These biscuits also go very well with a cup of milk or tea/coffee.
Ingredients
6-1/8ounces (180 grams)

soft butter

7ounces (200 grams) caster sugar
2large eggs
14 ouncesounces (400 grams) plain flour
1 teaspoonbaking powder
1/4 teaspoonsalt
1 teaspoon(5 ml) vanilla essence
Butter(for greasing)
Directions
Grease a baking tray with the butter and sprinkle some flour over the butter and shake the tray to evenly coat it.)
The butter and flour prevent the biscuit dough from sticking while baking).
Mix the butter and sugar in a bowl.
Mix two eggs in a bowl and add the vanilla extract to it.
Slowly pour the egg mixture to the sugar/butter. (Avoid pouring everything at once since it'll make it curdle).
In a bowl mix flour, salt, and baking powder in it.
Gradually add this flour mixture to the butter mixture.
Mix thoroughly so that there's no lumps formed from the flour and turns into a dough.
Take the dough out of the bowl and gently create a ball out of it.
Divide the dough ball into two equal halves.
Slightly flatten down each half and cover with cling film.
Place both halves in the refrigerator for 30 minutes.
Preheat the oven to 350 degrees F or 180 degrees C.
Roll the chilled dough on a floured surface (such as a cutting board or counter top). Use a pallet knife to loosen up the dough.
Create different shapes by pressing various cookie cutters (or pastry cutters) on the dough.
Cut out the shape and place them on the baking tray.Image titled Make Butter Biscuits Bake the biscuits for 10 minutes or until golden brown.
Place the finished cookies on a cooling rack and dust them with icing sugar.
Also, Read Easy Pizza Crust Recipe
Meghna Nath
This Recipe Rate :
(0) Reviews