Tasty and Healthy Burritos Recipe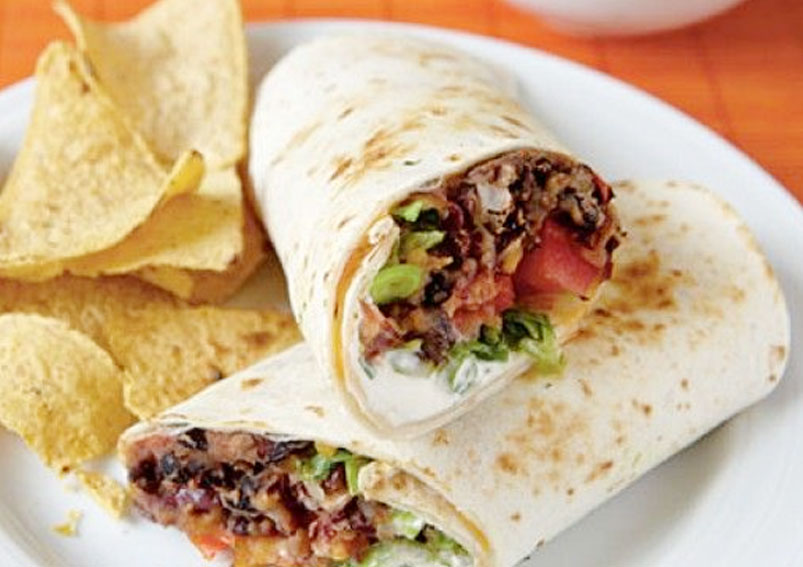 Burritos are basically soft tortillas made from flour and then stuffed with an authentic Mexican Style filling. Burrito is a Mexican dish is almost like Indian Frankies. This is always a great option for a weekend snack or for a party. It is quick, healthy, tasty and easy to make. Let's have a look how this Burritos can be prepared.
Ingredients
For The Guacamole
3/4 cupRipe Avocado Pulp
1 tspLemon Juice
1/4 cupFinely Chopped Onions
1/4 cupFinely Chopped Tomatoes
1 tspFinely Chopped Green Chilies
1 tspFinely Chopped Garlic (lehsun)
Saltto Taste
For The Re-fried Beans
1 1/2Oil
3 tspFinely Chopped Garlic (lehsun)
1/2 cupFinely Chopped Onions
1 cupFinely Chopped Tomatoes
1/4 cupFinely Chopped Capsicum
1 cupSoaked, Cooked and Drained Rajma (kidney beans)
1 tspChili Powder
1 tspRoasted Cumin Seeds (jeera) Powder
Saltto Taste
Other Ingredients
4Tortillas(easily available in the market)
1 cupFinely Chopped Tomatoes
1 cupFinely Chopped Spring Onions
8 tbspSour Cream
8 tbspGrated Processed Cheese
4 tbspCrushed Corn Chips( easily available in the market)
Directions
For the guacamole
In a bowl add avocado pulp, lemon juice, onions, tomatoes, green chilies, garlic, and salt and mash well by using a fork and refrigerate for an hour.
For the re-fried beans
Heat the oil in a deep pan, add garlic and onions and saute till the onions turn translucent.
Add the tomato and saute for 3 to 4 minutes.
Add the capsicum, rajma, chili powder, cumin seeds powder and salt.
Mix it well and cook for 5 minutes or till the mixture is dry and keep it aside.
How to proceed
Place a tortilla on a clean dry surface and arrange ¼Th of the re-fried beans mixture in a row in the center of the Tortilla.
Arrange ¼ cup each of each tomato and spring onions over it
Spread ¼Th of the guacamole and 2 tbsp of sour cream over it.
Sprinkle 2 tbsp of cheese and 1 tbsp of corn chips over it and roll it up tightly.
Wrap a tissue paper around each burrito and serve immediately.
Also, Read Cream Sandwich Cookies Recipe
Meghna Nath
This Recipe Rate :
(0) Reviews