Chocolaty Chocolate Pizza Recipe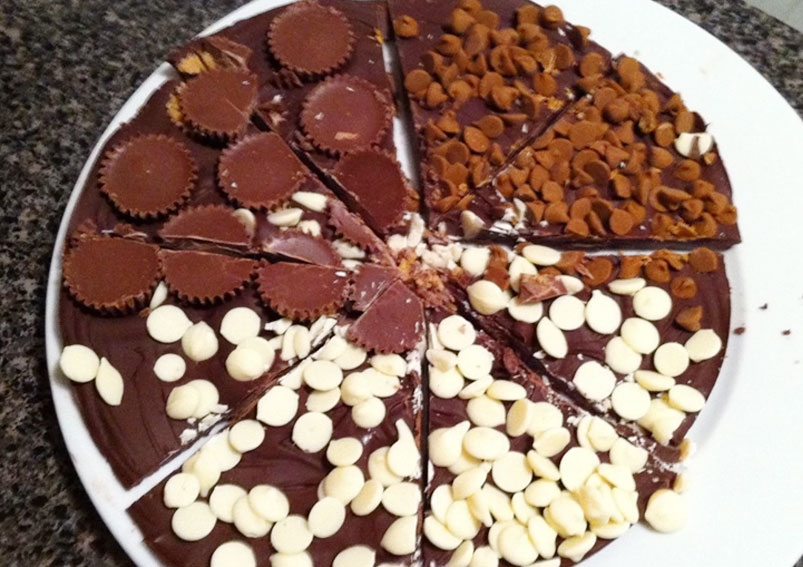 Are you bored of eating the same old pizza that has lots of cheese and veggies? Try this amazing delicious Chocolate Pizza which is loaded with chocolate spread and lots of chocolate chips. People who love chocolate will love this pizza.
Ingredients
1 poundhomemade pizza dough, follow the recipe or purchased pizza dough
2 teaspoonsbutter, melted
1/4 cupchocolate-

hazelnut

spread (recommended: Nutella or any other brand of chocolate spread can be used)
1/2 cupsemisweet chocolate chips
2 tablespoonsmilk chocolate chips
2 tablespoonswhite chocolate chips
2 tablespoonschopped hazelnuts, toasted
Pizza Dough
1/2 cupwarm water (105 to 110 degrees F)
2 teaspoonsactive dry yeast
2 cupsall-purpose flour, plus more for kneading
1 teaspoonsalt
3 tablespoonsolive oil, plus more for a bowl
Directions
To Make a Pizza Dough
Mix the warm water and yeast in a bowl to blend and it will take about 5 minutes to the yeast to dissolve.
Mix the flour and salt in a food processor and blend it with the oil.
While the machine running process, add the yeast mixture and blend just until the dough forms.
Turn the dough out onto lightly floured surface and knead until smooth.
Transfer the dough to a large oiled bowl and turn the dough to coat with the oil.
Cover the bowl with plastic wrap and set aside in a warm draft-free area until the dough doubles in volume and it takes about 1 hour for the dough to double in size.
Punch the down dough and form into a ball.
Now the dough is ready to make chocolate pizza.
To Make Chocolate Pizza
Position the oven rack on the bottom of the oven and preheat to 450 degrees F.
Line a heavy large baking sheet with parchment paper.
Roll out the dough to a 9-inch-diameter round.
Transfer the dough to the prepared baking sheet.
Use your fingers and make indentations all over the dough.
Brush the dough with butter, then bake until the crust is crisp and pale golden brown, about 20 minutes.
Immediately spread the chocolate-hazelnut spread over the pizza then sprinkle all the chocolate chips over.
Bake just until the chocolate begins to melt, for 1 minute.
Sprinkle the hazelnuts over the pizza.
Cut into wedges and serve.
Also, Read Easy Pizza Crust Recipe
Meghna Nath
This Recipe Rate :
(0) Reviews