Apple Cake Recipe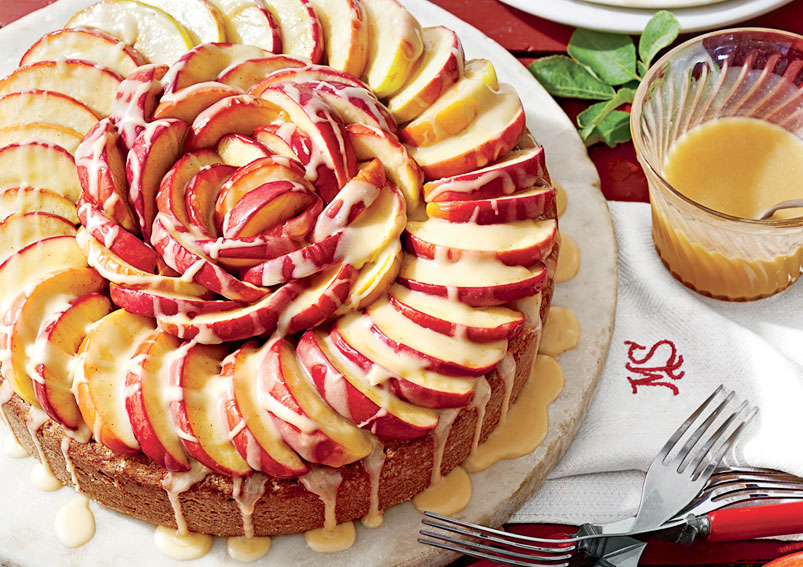 The best thing about using apple in any dessert is that it appeals to everybody. It has a soft texture, pleasing aroma and mild taste which everybody will enjoy. The Apple Cake is one such creation that focuses on apples.This cake has sweet aroma of Apples, vanilla and brown sugar. Let"s follow this recipe.
Ingredients
4 or 5

Apples

, peeled and cored
1 tablespoonLemon juice
2 cupsFlour
2 teaspoonsBaking powder
pinch ofSalt
4 ouncesUnsalted butter, room temperature
2/3 cupSugar
3Eggs
1 teaspoonVanilla
2 teaspoonsLemon peel, grated
2/3 cupMilk
3 tablespoonsBrown sugar
Directions
Preheat oven to 350°F.
Grease an 8 or 9-inch spring form pan with flour.
Chop half apples into small pieces and cut the remaining apples into thin slices.
Toss the apples with some of the lemon juice in a bowl.
In a mixing bowl, sift together the flour, baking powder, and salt.
Add the butter and sugar to the bowl with the help electric mixer, beat on medium-high until the butter mixture is creamy and lightened.
Add the vanilla and grated lemon peel to the butter mixture.
Reduce the speed of the mixer to medium and add the eggs one at a time, wait till each is fully incorporated before adding the next.
While the mixer in the process, add 1/3 of the flour mixture.
After it is fully incorporated, add half the milk, then another 1/3 of the flour, some more milk and finally the rest of the flour, and mix well.
Stop the mixer from time to time and scrape the edges with a spatula to ensure a smooth batter.
Remove the bowl from the mixer stand, and use a spatula or wooden spoon to stir the chopped apples into the batter.
Pour the batter into the prepared baking pan and smooth out the top.
Arrange the apple slices neatly in concentric circles over the batter.
Sprinkle the brown sugar evenly over the apple slices.
Place the pan in the oven and bake for 50 to 60 minutes, or until the top is nicely browned.
Let the cake cool completely, and then serve slices with a dollop of whipped cream and hot coffee.
VARIATIONS
Add 1 teaspoon of cinnamon and a grated nutmeg to the flour mixture.
Stir 1/2 cup of chopped walnuts into the batter along with the chopped apples.
Use a sieve to shake some powdered sugar over the cake after it has cooled and before serving.
Also, Read How to Make European Pound Cake Recipe
Meghna Nath
This Recipe Rate :
(0) Reviews