How To Make Sweet Boondi Recipe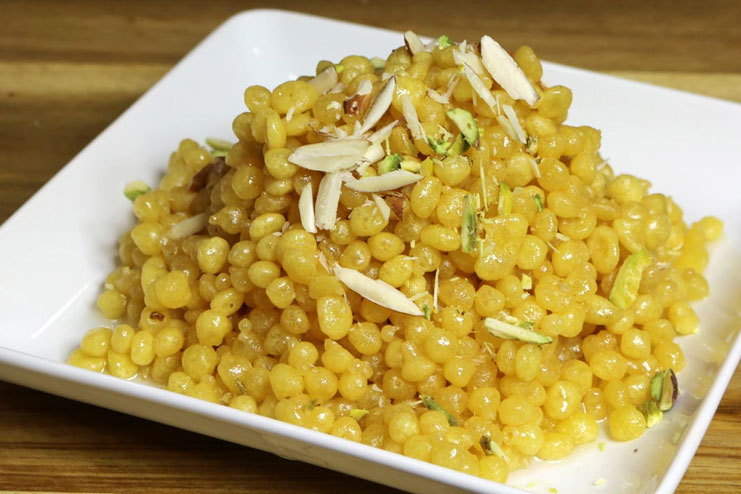 Sweet Boondies are a mouthwatering sweet. Boondies are small fried round drops made with gram flour(Besan). These Boondies are all time favorite. It is juicy inside and grainy outside. Let's follow this recipe.
Ingredients
For The Sugar Syrup
1 cupSugar
2 pinchesSaffron (kesar) strands dissolved in 2 tsp water
Other Ingredients
1 cupBesan (Bengal gram flour)
Gheefor Deep-Frying
For The Garnish
1/2 tspCardamom (elaichi) powder
10-12Pistachio Slivers
10-12Almond (badam) Slivers
Directions
For the sugar syrup
Combine the sugar and 1 cup of water in a broad non-stick pan, mix well and cook on a high flame for 5 to 7 minutes or till the sugar syrup is of 1 thread consistency.
Add the saffron-water mixture to the sugar mixture, mix well and keep it aside.
How to proceed
Add besan and ½ cup of water in a bowl and mix well till no lumps remain in the batter and put it aside.
Heat the ghee in a kadhai and pour 3 to 4 tablespoons of the batter at a time over a large round perforated spoon so that boondi drops in the ghee.
Deep-fry the boondi over a medium flame and remove using a slotted spoon and put them in the warm sugar syrup and mix it well.
Garnish with cardamom powder, pistachio slivers, and almond slivers.
Serve it
Tip:
At step no 4, hold the perforated spoon 3 to 4 inches above the kadhai as the ghee will be very hot.
Also, Read Badam Halwa Sweet Recipe
Meghna Nath
This Recipe Rate :
(0) Reviews