Baked Bread Roll Recipe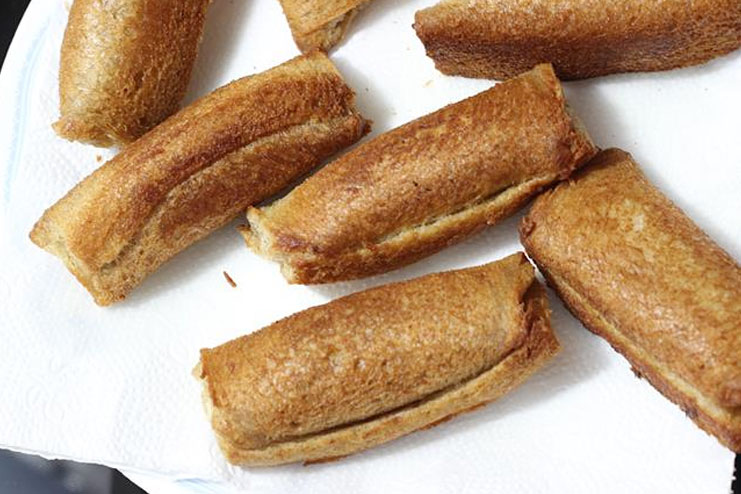 Baked Bread Roll is a good party snack that is quite easy to make. This mouthwatering roll is a perfect snack with evening tea or served as an appetizer. Bread rolls are crunchy outside and spicy and soft inside.
Ingredients
10fresh whole wheat

bread

slices
melted butterfor greasing and brushing
For The Stuffing
2 tspoil
2 tbspfinely chopped spring onions with the greens
2 tbspfinely chopped capsicum
2 tbspgrated carrot
1/4 cupfinely chopped cabbage
1/2 cupboiled whole wheat noodles, roughly chopped
1/4 cupfinely chopped paneer (cottage cheese)
1 tspsoya sauce
1 tspschezwan sauce
a pinchof sugar
saltand freshly ground black pepper (kalimirch) to taste
Directions
Heat the oil in a broad non-stick pan, add the spring onions, capsicum, carrots, and cabbage and saute on a medium flame for 1 to 2 minutes.
Add the noodles, paneer, soya sauce, schezwan sauce, sugar, salt and pepper and mix well and keep it aside.
How to proceed
Cut the crust from the bread slices and roll each using a rolling pin.
Place a rolled bread slice on a clean, dry surface and spread 1 tbsp of the prepared stuffing at one end of the bread slice and roll it up tightly.
Apply some water to the edges and press to gently seal the stuffing.
Place the rolls on a greased baking tray, brush little butter evenly on top of the bread rolls and bake in a pre-heated oven at 200ºc (400ºf) for 15 minutes.
Turn them over and bake again at 200ºc (400ºf)for 5 more minutes.
Serve it.
Also, Read Tasty Mushroom 65 Recipe
Meghna Nath
This Recipe Rate :
(0) Reviews