Quick and Easy Prawn Biryani Recipe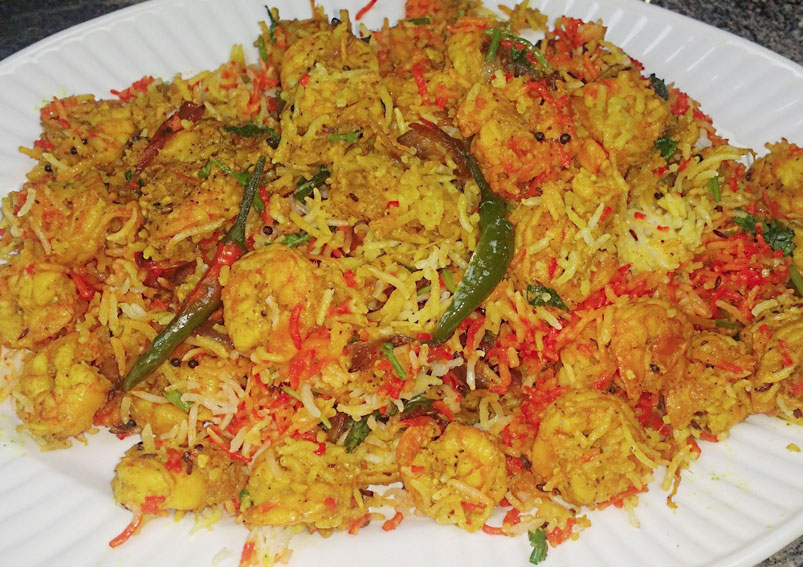 No one can deny their love for Biryani and the type of biryani varies from region to region. Biryani is one pot meal. This Prawn Biryani is quick and easy to make. Follow this recipe.
Ingredients
For the Masala:
2 tbspoil
40prawns shelled and de-veined
2 tbspred chili powder
1 tbspcoriander seed powder
1 tbspturmeric powder
1 tbspfennel seed
1 tbspbiryani masala (easily at the market)
1 tbspgaram masala powder
300 gmonion julienne
1 cupcoconut milk / 1 cup yogurt
4green chilies
7 tbspginger-garlic paster
250 gmtomatoes sliced
1.5 tbsppepper powder
3cinnamon stick
1 tbspcaraway seed (shahi jeera)
1bay leaf
2black cardamom
4green cardamom
1star anise
1 tbsppepper powder
4 to 5cloves
4 to 5peppercorn
2stone flower (dagad phool)
½ cupchopped coriander leaves
2potatoes diced lengthwise (optional)
fewmint leaves
2lime juice
saltto taste
For white paste:
2 tbspmelon seed
2 tbspwhite sesame seed
1 tbsppoppy seed
6 to 7almonds
3 to 4cashew nut
2 cupscoconut milk
4 cupswater or as required
150 gmonion julienne
1 tbspsugar
10 to 12cashew nuts
10-12raisins
big blackcardamom
1cinnamon stick
1star anise
1bay leaf
1 tbspmace powder (javitri)
Saltas per taste
fewdrops of ghee
fewsaffron strands (optional)
fewmint leaves
Saltas per taste
For the rice
Directions
In a bowl add prawns with chili powder, coriander powder, turmeric powder, lime juice and salt and mix it well and marinate prawns for 20 min.
Soak basmati rice in water for 30 min.
To make the biryani rice
Heat oil / ghee in a large pan and saute the onion until golden brown and add sugar which will help the onion to caramelize faster and remove it and keep it aside.
In the pan add cashew nuts, raisins and saute for 2 and keep it aside.
Add little oil in the pan or in the vessel.
Add bay leaf, star anise, cinnamon and black cardamom and saute until it leaves a nice aroma.
Add coconut milk and mace powder and stir it nicely.
Add the soaked basmati rice and water and cook uncovered on high heat.
When the water is reduced lower the heat and cover tightly with a lid and cook till the rice is half cooked and strain if any excess water from the rice.
Blend all the ingredients for white paste and grind until a smooth paste is formed and add little water if required.
Take oil/ ghee in a wide bottomed vessel and add caraway seed, green cardamom, bay leaf, peppercorn, cinnamon stick, black cardamom and stone flower.
Saute for a minute then add onion and add some salt, stir for 2 to 3 min until they change color to light brown.
Add tomatoes, green chilies, and ginger-garlic paste and Mix it nicely.
Add pepper powder and stir until tomatoes are slightly soft.
Add coriander leaves mix all nicely.
Add biryani masala and garam masala powder and stir it well.
Add the grounded white paste. If you like it spicy then add some more red chili powder at this time and stir all nicely.
Finally, add prawns and cover with the lid and cook with some water.
Cook until potatoes are half cooked. Check the taste and add any spices if required.
Take big vessel/pan for stacking layers for biryani.
Spread some prawns gravy first and spread some parboiled rice enough to cover the prawn's gravy.
Place some fried onion, ghee, mint leaves, saffron strands, fried cashews and raisins over the parboiled rice.
Again spread prawns gravy, then parboiled rice, again spread some fried onion, ghee, mint leaves, saffron strands, fried cashews, and raisins.
Cover tightly with a heavy weight and cook till done.
It takes an about25 min to cook on a low flame.
Just remove one potato and check if potatoes are cooked.
Serve prawns biryani with fried onion and salad.
Notes
This is a hot spicy biryani so add spices as per your taste and preference.
Instead of making a white paste you could use yogurt.
If you wish you skip coconut milk, but coconut milk imparts a nice flavor to this biryani.
While layering any biryani start with gravy first and end with rice on top.
While frying onion if you add a dash of sugar and salt. The onion will fry much faster and caramelize soon.
You can prepare this biryani with any fish fillets.
Also, Read Ramzan Special Chicken Biryani Recipe
Meghna Nath
This Recipe Rate :
(0) Reviews