Spicy Bell Pepper Rice Recipe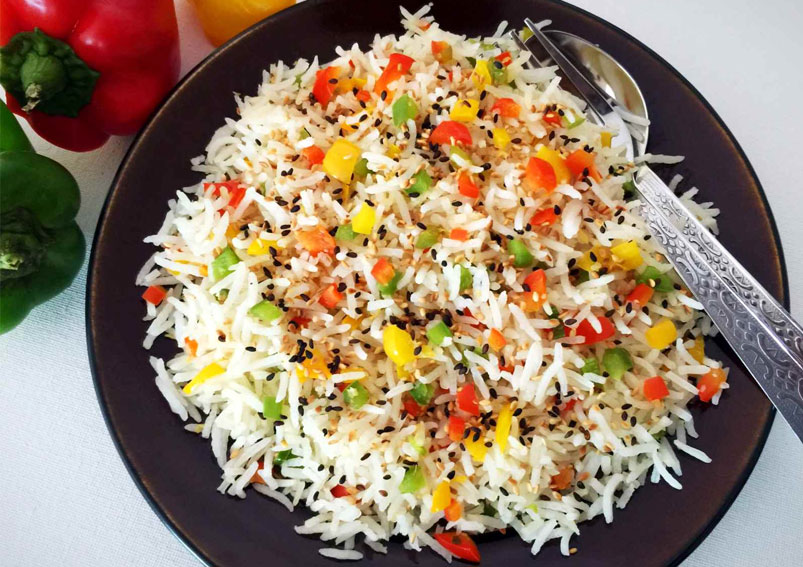 A treat for the spicy plate, the Bell Pepper Rice has rice cooked with chopped bell peppers. A color-full and appealing rice recipe which is rich in vitamins and nutrients and has a great taste. Let's follow this recipe.
Ingredients
3 cupscooked rice
2 tablespoonsvegetable oil
3cloves
2green cardamom pods
1cinnamon stick, small
1black cardamom
3peppercorns, small
1 teaspooncumin seeds
1green chili
1.5 teaspoonsginger-garlic paste
1red onion, medium, finely chopped
1tomato, big, chopped
1.5 tablespoonsyogurt
1 cupsbell peppers, cut into small cubes (you can use any color bell pepper)
¼ teaspoongaram masala, to sprinkle
to tastesalt
to garnishcoriander leaves, chopped
1 teaspoonlemon juice(optional)
Directions
Heat oil in a pan on medium heat and once hot, add green cardamom pods, black cardamom, cinnamon stick, bay leaf, cloves, and peppercorn.
Saute for 30 seconds till you get a nice aroma of the spices.
Add cumin seeds and let it splutter.
Add chopped green chili and saute till it starts turning light golden in color.
Add chopped onions and cook till they are translucent and till the raw smell goes away.
Add ginger-garlic paste and cook till raw smell goes away.
Add chopped tomatoes and cook the tomatoes for 5-6 minutes or till they are soft and nicely done.
Add chopped green and red bell pepper and cook for 1-2 minutes.
Add the yogurt and mix it well.
Cook the veggie mixture till yogurt is well combined with the veggies and cook for 3-4 minutes on medium flame.
Add the salt and mix it well.
Add the cooked rice into the pan and mix thoroughly.
After 2 minutes, sprinkle garam masala on top and mix it well.
Cook for another 2 minutes on medium heat and squeeze in lemon juice (if your using).
Place the rice in a serving bowl and garnish with coriander leaves and serve it.
Also, Read Tomato Pulao
Meghna Nath
This Recipe Rate :
(0) Reviews