Tasty Eggless Marble Cake Recipe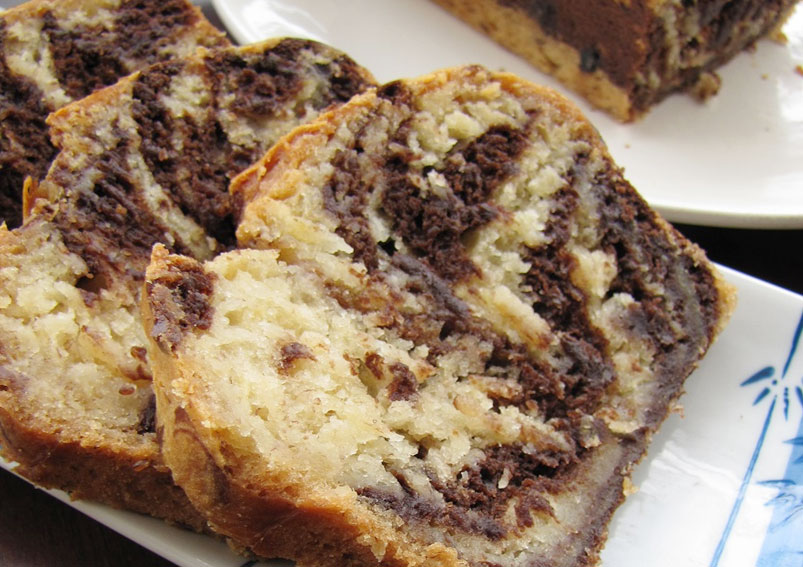 Eggless Marble Cake is a lusciously spongy cake with the rich and delicious aroma of condensed milk, vanilla extract, and cocoa powder. Once you prepare this cake you cannot resist yourself eating. Let's follow this tasty cake recipe.
Ingredients
1-1/4 cupAll Purpose Flour (Maida)
3 tablespoonsCondensed Milk,or milk powder
2 teaspoonsBaking powder
1/2 teaspoonBaking soda
1/2 cupButter
3/4 cupCaster Sugar
3/4 cupMilk
1 teaspoonVanilla Extract
2 tablespoonsCocoa Powder
2 tablespoonsHot water
Directions
In a bowl sieve maida, baking powder and baking soda twice so that soda is evenly distributed.
In a mixing bowl add butter and sugar and whisk till light and fluffy and pour milk and mix it well until creamy.
In a bowl pour hot water and cocoa powder and mix it well to form a paste and keep it aside to cool.
Add sifted maida flour to the sugar butter mixture and mix it gently so that everything gets nicely blend
Now divide the cake mixture into 2 parts and add 1/4th portion of the cake batter to the cocoa mixture and add vanilla essence to the remaining 3/4th cake mixture and now your both vanilla and chocolate cake batter is ready to bake.
Preheat the oven at 170 C for 10 minutes and line the baking tray with butter paper and grease with oil and keep it aside.
Pour all of the vanilla batter into the prepared tray and top with the chocolate batter in circles and then with help of a fork/knife make marble like patterns (don't overdo it).
Bake at 170 deg C for 40 minutes or until a toothpick inserted comes out clean and set aside to cool down completely on a wire rack.
Cut it into slices and serve it.
Check More Bake Recipes
Meghna Nath
This Recipe Rate :
(0) Reviews