Eggless Chocolate Cookies Recipe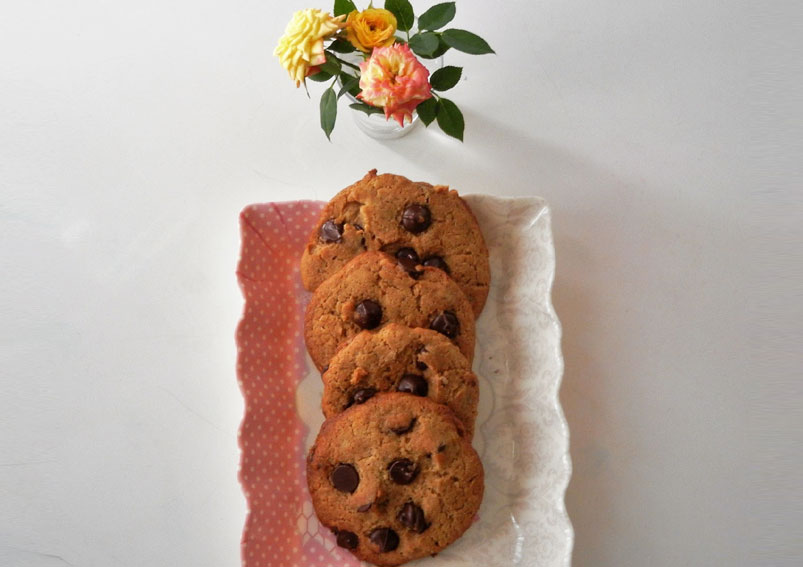 Eggless Chocolate Cookies is a kids recipe which is very easy to make. This cookies has a long shelf life and can be stored in an airtight container. It also serves as a perfect tea time snack during festivals. Let's follow this recipe.
Ingredients
1 cupgrated

dark chocolate

1 1/4 cupsself-raising flour( See the tips below)
1/2 cupmilk powder
3/4 cupsoft butter
2 tbspcastor sugar
2 tbspbrown sugar
1/4 cupcondensed milk
1/2 tspvanilla essence
1/4 cupchocolate chips
Directions
Sieve the self-raising flour in a deep bowl and add milk powder, mix it well and keep it aside.
Place the dark chocolate in a microwave-safe bowl and microwave on high for 30 to 40 seconds or till the chocolate melts completely and remove from the microwave, mix it well and keep it aside.
In a bowl butter, castor sugar, and brown sugarand beat well with a help of an electric beater for 6 to 7 minutes or till the mixture turns light and creamy.
Add condensed milk, melted chocolate, and vanilla essence and mix it well by using a spatula.
Add the flour-milk powder mixture to condensed milk and mix it well by using a spatula to form a very soft dough.
Add the chocolate chips and mix it well and cover it with a cling film and refrigerate for 20 minutes.
Place a sheet of aluminum foil on a baking tray and Use an ice cream scooper and scoop outportions of the dough and place them on the foil lined baking tray at equal distance. And flatten them using a fork to form a 50 mm. (2") round flat cookie.
Bake it in a pre-heated oven at 160°c (320°f) for 45 minutes and keep aside to cool for 10 to 15 minutes.
Serve or store in an air-tight container.
Tips
To make 1¼ cups of self-raising flour at home, combine 1¼ cups plain flour, ¼ tsp baking powder and a pinch of salt and mix it well and use as per the recipe.
Nutrient values per cookie
Energy117 cal
Protein1.4 g
Carbohydrates10.3 g
Fiber0 g
Fat7.6 g
Cholesterol0 mg
Vitamin A289.5 mcg
Vitamin B10 mg
Vitamin B20 mg
Vitamin B30.2 mg
Vitamin C0.1 mg
Folic Acid0.5 mcg
Calcium20.6 mg
Iron0.3 mg
Magnesium0 mg
Phosphorus0 mg
Sodium73 mg
Potassium22.7 mg
Zinc0.1 mg
Check More Easter Recipes
Meghna Nath
This Recipe Rate :
(0) Reviews