Eggless Whole Wheat Coconut Cookies Recipe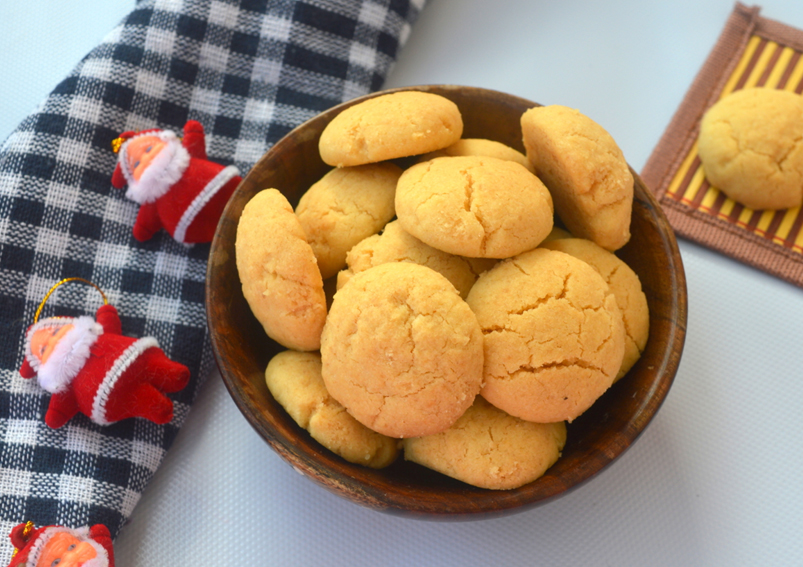 The appealing aroma of baked coconut and melted butter that emanates from the oven will draw you to bite into a cookie as soon as it is out of the oven, but do the urge and wait till it cools down, as the cookies will turn crisp only on cooling. These Eggless Whole Wheat Coconut Cookies are sure to be a family favorite. Let's follow this recipe.
Ingredients
1/2 cupWheat Flour
1/4 cupSugar
1/4 cupUnsweetened Desiccated

Coconut

1/4 cupUnsalted Butter, softened
A pinch ofSalt
1/2 tspVanilla Essence
1 tbspMilk or as needed
1.5 tbspUnsweetened Desiccated

Coconut

for garnish
Directions
Grind the sugar into a fine powder and set it aside.
Preheat the oven to 180 degrees C.
In a mixing bowl, add the butter and powdered sugar and mix it until light and creamy.
Add the vanilla and salt and combine.
Add wheat flour and coconut to the butter mixture and mix everything nicely.
Then sprinkle the milk little by little over it and mix well to make a smooth dough and the dough should be very soft.
Divide the cookie dough into 10 – 12 round balls and flatten them with your palms to shape the cookies.
Dip the top side of the cookies into the coconut and place them on a baking tray spacing about 1 inch apart.
Bake the cookies in the preheated oven for 18 minutes at 180 degrees C.
Remove them from the oven and let them cool down for 2 – 3 minutes.
Place them on a wire rack and allow them to cool.
They will be soft when taken out but will firm up once they cool.
Store in an airtight container.
Also, Read Chocolate Mint flavour Milkshake Recipe
This Recipe Rate :
(0) Reviews