Veg Lasagna Delight Recipe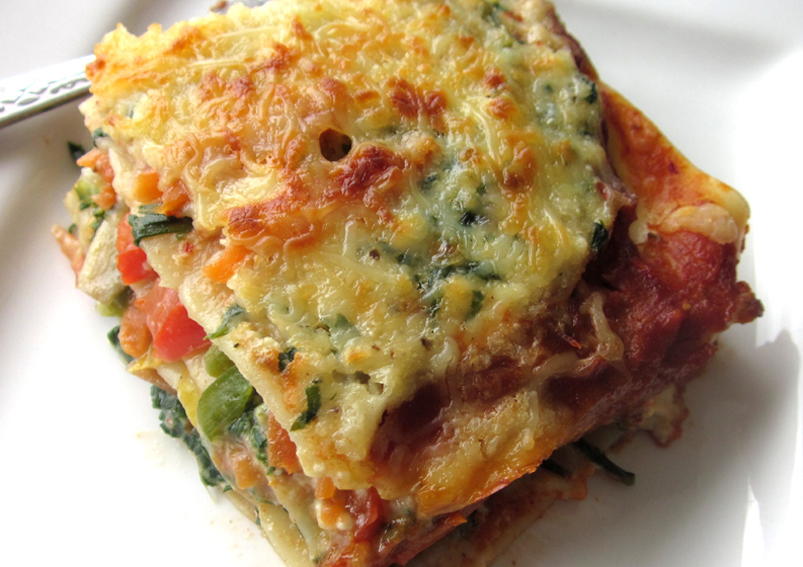 Veg Lasagna Delight is a self-contained meal as the lasagna sheets play host to a basket full of juicy and crunchy veggies and a tangy tomato sauce all of which is bathed in luscious white sauce and coated with grated cheese before baking, try out this recipe.
Ingredients
12 oz package (12 strips) Oven ready Lasagna noodle ( easily available in the market)
1 1/2 Cup Marinara Sauce( easily available in the market)
4-6 tsp Olive Oil
16oz (1 bunch) Fresh

Spinach

chopped
1 Cup Broccoli
1 Cup Cauliflower Florets
1 1/2 Cup Green Beans, carrot, onion (chopped)
1 1/2 Cup Black and red beans (cooked)
to taste Green Chili (finely chopped)
4 cloves Garlic (finely chopped)
1tsp Italian Seasoning- dry parsley and oregano
1tbsp Crushed Red Chili Pepper
2 cups Shredded Mozzarella Cheese
1 cup Shredded Parmesan Cheese
handful, chopped Fresh Basil Leaves
chopped finely Italian Parsley and cilantro
1tsp Chili powder
to taste Salt
Directions
Soak both beans together for 6-8 hrs and then pressure cook for 15 min and add salt, chili powder and keep it aside.
Take a pan stir fry spinach with 1tsp butter and salt and few chopped green chilies and garlic for 2min and keep it aside.
Heat 2 tsp of olive oil in a medium non-stick pan and add cumin seeds, crushed red pepper, chopped green chili, garlic, parsley, oregano, onion, broccoli, cauliflower, green beans, carrots, and salt.
Stir fry for a 2-3min and keep it aside.
Mix both the shredded cheese in a bowl and keep it aside.
Preheat Oven to 375 degrees Fahrenheit.
Now spray the bottom and sides of a 9" x 13" baking pan with cooking oil.
Cover the bottom of the pan with few spoons of marinara sauce just enough to coat.
Layer 3 noodles(sheets) next to each other on top of the sauce.
Lightly coat the top of noodles with a little more sauce.
Spread cooked beans and 1tbsp spinach and then layer with ½ cup cheese
Again place 2nd layer of noodles on top of the cheese (side by side).
Lightly spread sauce on the noodles and spread stir fried vegetable mixture evenly and again layer with ½ cup cheese mixture on top of the sauce.
Layer 3 noodles again and spread with sauce, cooked black beans, remaining stir fry vegetables, spinach, and 1/2 cup cheese mix.
Finally repeat the same process with 3 more noodle sheets, finally add reaming beans, veggie, sauce and sprinkle cheese mixture over the top.
Cover with foil and Bake for 45 minutes at 375 degrees Fahrenheit.
Allow the Lasagna to rest for 15 minutes before cutting. Garnish with chopped parsley. Serve it with salad for a complete meal.
Tips
Use glass baking tray for best results
You can also try with other vegetables too.
Also, Read Tasty Paneer Salsa Wrap Recipe
This Recipe Rate :
(0) Reviews