Mixed Beans Curry with Potato Balls Recipe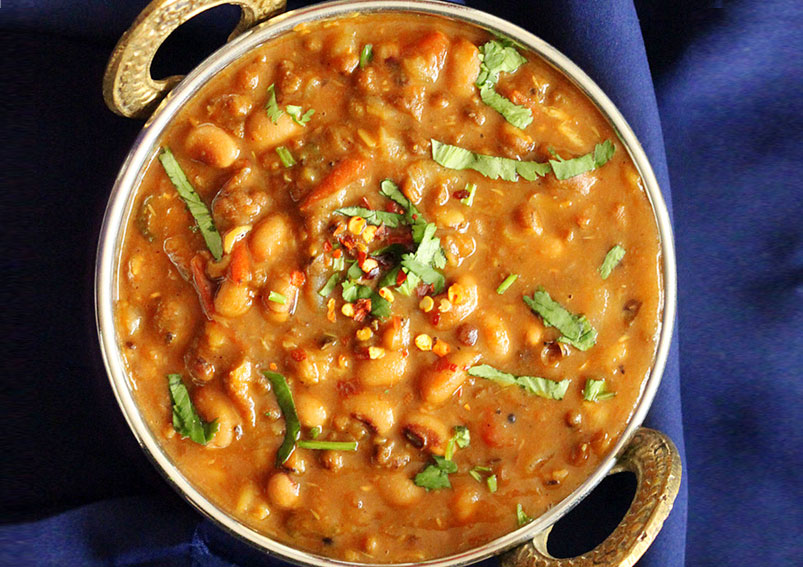 Mixed Beans Curry with Potato Balls Recipe is a complete package of proteins, calcium, and is a mouth-watering dish. This beans curry is cooked in delicious tangy gravy. Relish this curry with hot steaming rice. Let's follow this nutritious recipe.
Ingredients
For The Beans Curry
1/4 cupField Beans/ Butter Beans(rangoon na vaal)
1/2 cupRajma (kidney beans)
3 1/2 cupRoughly Chopped Tomatoes
1 tbspGhee
1/2 cupFinely chopped onions
2Green Chilies , slit
1 tspChili powder
2 tspSugar
Saltto taste
For The Potato Balls
1 cupBoiled , Peeled and Mashed Potatoes
1Fresh Bread Slice
10-15Cashew nuts, chopped (kaju)
1/2 tbspFinely Chopped Green Chilies
1 tbspFinely Chopped Coriander (dhania)
1/2 tspLemon juice
Saltto taste
1 tbspCornflour
deep-fryingOil
Directions
For the beans curry
In a bowl soak field beans/ butter beans and rajma with enough water and keep it aside for overnight.
Next day, drain the water from the beans and pressure cook the beans with water for 30 minutes and allow the steam to escape before opening the lid.
Drain the water from beans and keep it aside.
Add tomatoes and ¾ cup of water in a deep non-stick pan and cook on a medium flame for 4 to 5 minutes or till the tomatoes turns soft.
Cool slightly and blend in a mixer to a smooth pulp and strain the tomatoes by using a strainer and keep it aside.
Heat ghee in a kadhai, add the onions and saute on a medium flame for 1 minute.
Add the prepared tomato pulp, green chilies, chili powder, sugar, salt and the cooked beans.
Mix well and cook on a medium flame for 5 to 7 minutes and stir occasionally.
Remove from the flame and keep it aside.
For the potato balls
Dip the bread slice in water for 15 seconds and squeeze out all the water and crumble the bread.
In a bowl add crumbled bread, mashed potato, chopped cashew nuts, green chili, chopped coriander leaves and lemon juice and mix it well.
Divide the mixture into 10 equal portions and shape each portion into a round ball.
Heat the oil in a kadhai and deep-fry the potato balls till they turn golden brown in color from all the sides.
Drain on absorbent paper and keep it aside.
How to serve
Just before serving, reheat the beans curry and add the potato balls, mix gently and cook on a medium flame for 1 to 2 minutes.
Serve hot.
Also, Read Tasty Bean Dumplings Recipe
By Meghna Nath
This Recipe Rate :
(0) Reviews