Nutella and Strawberry Mini Pancake Recipe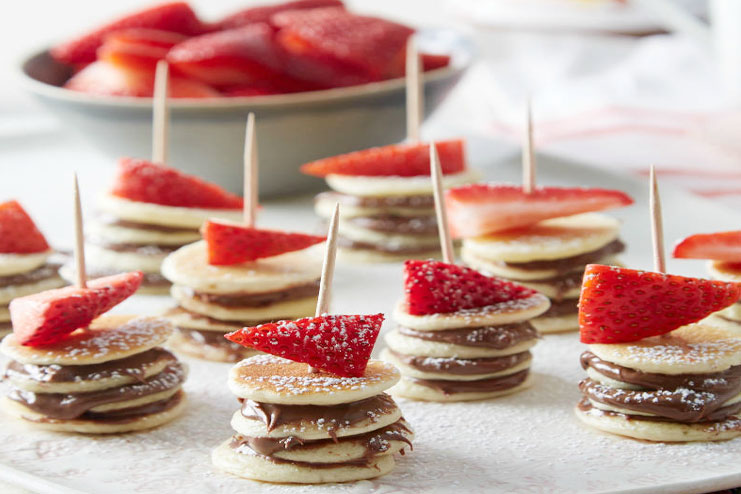 Here is a dessert that can double up any special occasion.This pancake is semi- sweet yet rich with the goodness of strawberry and Nutella hazelnut chocolate spread. This Nutella and Strawberry Mini Pancake is a perfect sweet dish. Try this recipe.
Ingredients
For The Mini Pancakes
5 tbspcornflour
5 tbspplain flour (maida)
5 tbspmilk
a pinchof salt
melted butterfor greasing and cooking
Other Ingredients
14 tspNutella hazelnut chocolate spread
14 tspchopped strawberries
icing sugarfor dusting
Directions
For the mini pancakes
Add cornflour, plain flour, milk, salt along with 5 tbsp of water in a deep bowl and mix well using a whisk.
Grease a non-stick mini uttapam pan with little-melted butter.
Pour little of the batter in each uttapa mold and spread it lightly and use a little butter and cook for few seconds on both the sides and cool them slightly.
How to proceed
Place the pancakes on a clean, dry surface, spread 1 tsp of Nutella hazelnut chocolate spread and 1 tsp of chopped strawberry evenly over each pancake.
Dust a little icing sugar on top and serve it.
Also, Read Valentine Sugar Cookies Recipe
Meghna Nath
This Recipe Rate :
(0) Reviews