Spicy Tomato Garlic Rice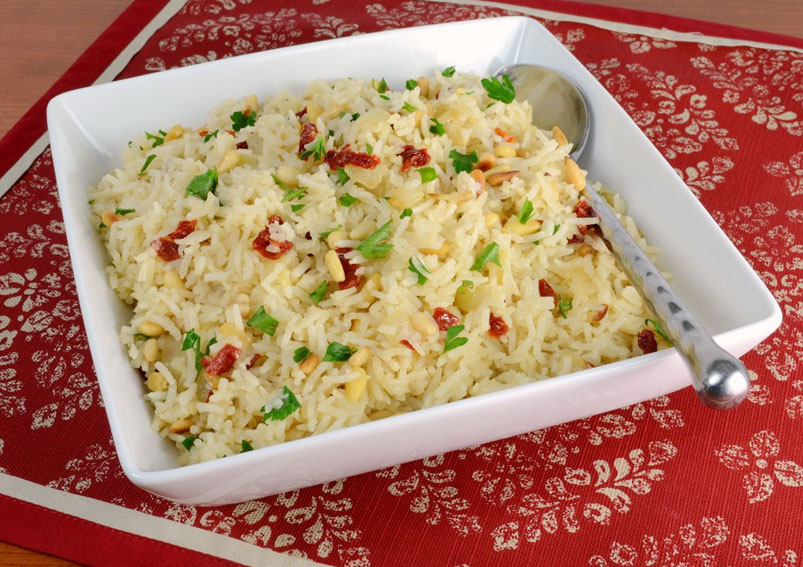 This spicy and tangy rice preparation is an ideal for packing in a lunch box and sure to be enjoyed by young and old alike. Enjoy with hot and fresh curd and papad.
Ingredients
2 cups

Rice

2 (finely chopped)Onions
1 (finely chopped)Capsicum
2 (finely chopped)Tomatoes
3-4 (chopped)Green chilies
4tbspGarlic paste (you can also use garlic chutney)
1Cinnamon
2Clove
1tspRed chili powder
1tspGaram masala
1tspCumin seeds
1Bay leaf
2Dry red chili
Saltas per taste
2tbspOil
2tbspCoriander leaves (chopped)
Directions
Wash the rice and boil in water and stir at intervals and drain the extra water after the rice gets cooked and keep it aside and let it cool.
Heat oil in a frying pan and when the oil starts steaming, sprinkle cumin seeds, bay leaf, dry red chili and mix it well and add cinnamon and clove.
Add onions and capsicum and cook on medium flame for a minute.
Add garlic paste, tomatoes, green chilies and salt and cook on medium flame for 2 minutes.
Sprinkle red chili powder, garam masala and then mix well and add boiled rice.
Mix well so that the masala is absorbed by the rice and cook on a low flame for a minute.
Garnish with coriander leaves and chopped tomatoes.
Serve it hot with masala gravy.
Meghna Nath
This Recipe Rate :
(0) Reviews