Godhuma Rava Idli Recipe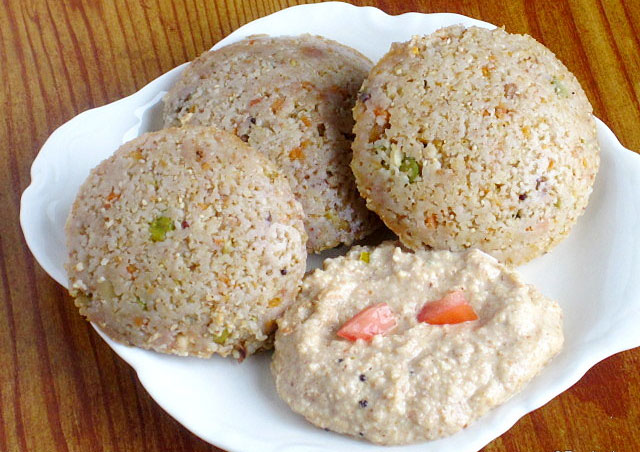 Godhuma Rava idle is a very healthy dish, especially when one is sick and needs strength and energy. It is a diabetic recipe since it has low fat and less calories. Lets see how this Godhuma Rava idli recipe can be prepared.
Ingredients
300 gms Broken wheat
2 cups Curd
12 Curry leaves
2 tsp Olive oil
1/2 tsp Mustard seeds
2 tbsp Grated coconut
2 Coriander leaves
4 tbsp Grated carrot
1 tbsp Grated ginger
2 tbsp Chopped Green chillies
Directions
Step

1

Take 300 gms of broken wheat and dry roast. Add water, 2 cups of curd and salt to the wheat till you get a paste like batter and keep it for half an hour.

Step

2

Add 1 tbsp of ginger grated, 2 tbsp of green chillies which are finely chopped, 2 tbsp of chopped coriander leaves.

Step

3

Add 4 tbsp of grated carrot and 2 tbsp of coconut(grated). Take 2 tsp olive oil in a pan and add 1/2 tsp mustard seeds and 12 curry leaves let them fry for few seconds.

Step

4

Add this to the wheat-curd batter, mix well and spread ladle full on idli trays and steam for 15 mins.

Step

5

Cut into square pieces and serve with any chutney.
This Recipe Rate :
(0) Reviews