Traditional Kachche Gosht Ki Biryani Recipe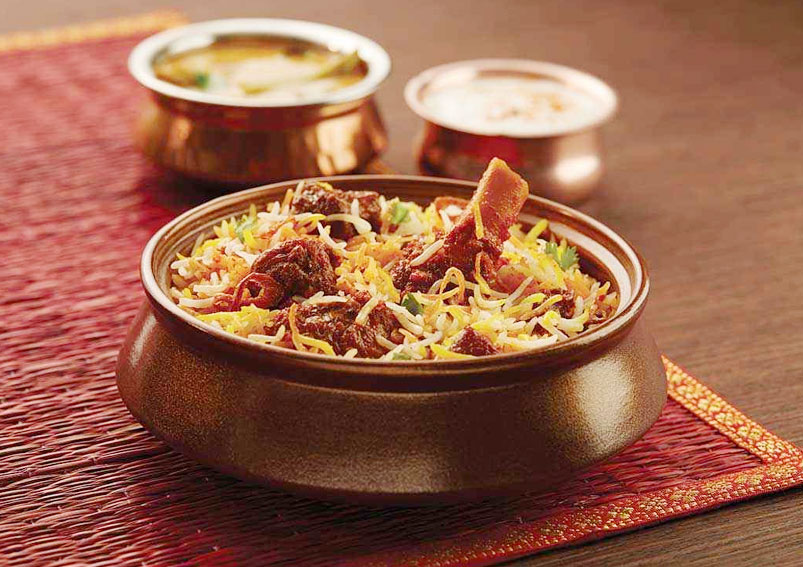 Kachche Gosht Ki Biryani is also known as Mutton Biryani. This recipe is spicy and colorful variant of biryani in India. The traditional style of making the Biryani is by cooking the raw marinated meat with spices. Try traditional recipe.
Ingredients
750 gramsMutton cut into 2 inch pieces
1 1/2 cupsBasmati rice soaked
2 tablespoonsRaw papaya paste
Oil fordeep-frying
4 largeOnions sliced
1 1/2 cupsYogurt
Saltto taste
1/2 teaspoonTurmeric powder
1-1/2 teaspoonsRed chili powder
1-1/2 tablespoonsGinger paste
1 tablespoonGarlic paste
2 tablespoonsRose petals
1/2 cupFresh mint leaves
1/2 cupFresh coriander leaves chopped
1 tablespoonGaram masala powder
3Green cardamom
1 inchCinnamon stick
3Cloves
1Black cardamom
7-8Black peppercorns
1/2 teaspoon

Kewra

water
1/2 teaspoonRose water
3 tablespoonsPure ghee
1/2 teaspoonCaraway seed (shahi jeera) powder
few strandSaffron (kesar)
2 tablespoonsMilk
2 inchpiece Ginger cut into thin strips
Wheat flourdough to seal
Directions
Place the mutton pieces in a deep bowl, add the papaya paste and mix it well so that all the mutton pieces are covered with the paste.
Cover the bowl with cling film and place the bowl in the refrigerator for eight to ten hours so that the mutton gets tenderized.
Heat sufficient oil in a kadhai and add onions and deep-fry till well browned and drain on absorbent paper.
Take the mutton out of the refrigerator and add yogurt, green chilies, salt, turmeric powder, red chili powder, ginger paste, garlic paste, half the fried onions, one tablespoon rose petals, half the fresh mint, half the fresh coriander and garam masala powder and mix it well.
Cover the bowl with cling film and keep it in the refrigerator to marinate for at least 30 min.
Cook the rice in plenty of water with salt till half done and drain it well.
Add green cardamoms, cinnamon, cloves, black cardamom, peppercorns, half Kewra water, rose water, two tablespoon ghee and caraway seeds over the rice and mix it well.
Dissolve saffron in warm milk and take a non-stick deep pan and spread the marinated mutton and top it with the rice.
Sprinkle the remaining fried onions, remaining Kewra water, fresh mint, fresh coriander, saffron milk, milk, remaining ghee, remaining rose petals and ginger strips.
Cover the pan with a lid and seal with the wheat flour dough.
Place a tawa on the pan and cook on low heat for forty-five to sixty minutes or till both the mutton and rice are completely cooked.
Let it stand for fifteen minutes before opening the seal and lid.
Serve hot with any raita.
Meghna Nath
This Recipe Rate :
(0) Reviews