How to make Sultani Dal Recipe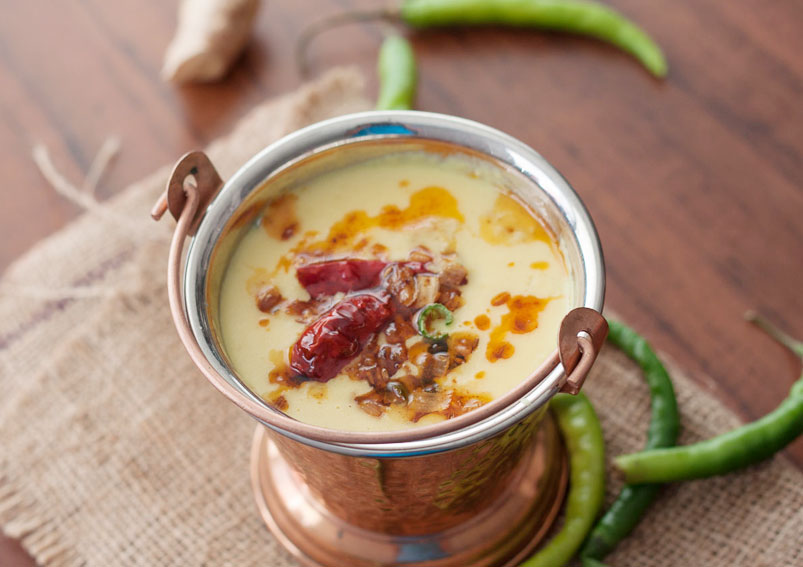 Even commonly consumed dal rock when combined intelligently with the right ingredients. The cream and curd add sour taste to this versatile dal, which goes well with rice as well as with roti. Let's try this Sultani Dal recipe.
Ingredients
1 cupsoaked

toovar

(arhar) dal
1/2 cupmilk
1/2 cupcurds (dahi)
1/2 cupcream
1 tspcumin seeds (jeera)
4 to 6cloves (laung / lavang)
1/2 tspchili powder
a fewsaffron (kesar) strands , dissolved in 1 tbsp water
4 to 5cardamoms
5 to 6cloves (laung / lavang)
2chopped green chilies
1 tbspchopped mint leaves (phudina)
3 tbspghee
saltto taste
1charcoal
Directions
Pour milk, cream, and curd in a bowl, mix it well and keep it aside.
Grind cardamoms and cloves into a fine powder and keep it aside.
Boil dal along with salt and chili powder in 2 1/2 cups of water and cook till the dal is soft and mash the dal well.
Place a small container on the dal and keep a charcoal in it and pour 1 tsp ghee over it and immediately cover it with the lid for 10 minutes and then remove it.
In a bowl add the cream mixture, clove- cardamoms powder and saffron and remove the cover, add this paste to the dal and simmer on low flame for 3-4 minutes.
Heat ghee in a pan and temper with the cumin seeds and garlic and add to the dal and mix it well.
Garnish with green chilies and mint leaves and serve hot.
Also, Read How to Cook Dhaba Dal Recipe
Meghna Nath
This Recipe Rate :
(0) Reviews