Quick Vegetable Tikki Recipe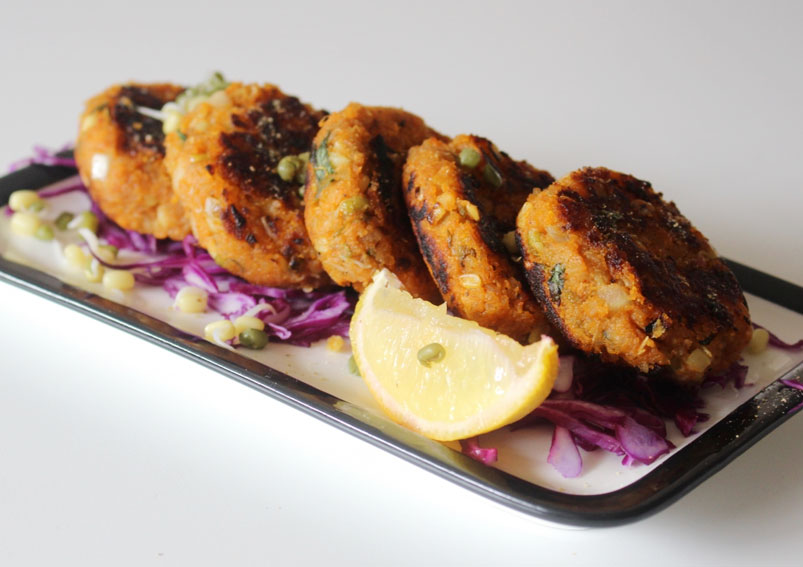 Here is a lip smacking tikki made with a colorful mixture of veggies. This Quick Vegetable Tikki is a great blend of vegetables and spices. These are great as an appetizer. Follow this recipe.
Ingredients
1-1/2 cupsthickly grated

bottle gourd

(lauki)
1 cupboiled, peeled and grated potatoes
1/4 cupboiled and coarsely mashed green peas
1/4 cupgrated carrot
1/4 cupchopped onions
3 tbspbesan (bengal gram flour)
2 tbspchopped coriander (dhania)
1 tbspchopped mint leaves (phudina)
2 tspfinely chopped green chilies
1 tspcaraway seeds (shah jeera)
saltto taste
To Be Mixed Together
1/4 cupfinely chopped mint leaves (phudina)
1/2 tspdried mango powder (amchur)
1/4 tspchili powder
Other Ingredients
bread crumbsfor rolling
Oilfor greasing and cooking
Directions
Combine all the ingredients in a deep bowl and mix very well using your hands.
Divide the mixture into 14 equal portions.
Roll a portion of the mixture into a 50 mm. (2") diameter circle.
Roll the Tikki in the breadcrumbs and coat them from all the sides.
Heat a non-stick tava (griddle), grease it with oil and cook the tikki by using a little oil and fry on a medium flame till they turn golden brown in color from both the sides.
In a bowl add chopped mint leaves, dried mango powder, and chili powder and toss it well.
Roll this tikki in the prepared mixture and serve it with sauce.
Also, Read Making Process of Corn Rolls Recipe
Meghna Nath
This Recipe Rate :
(0) Reviews