South Indian Style Aloo Bonda Recipe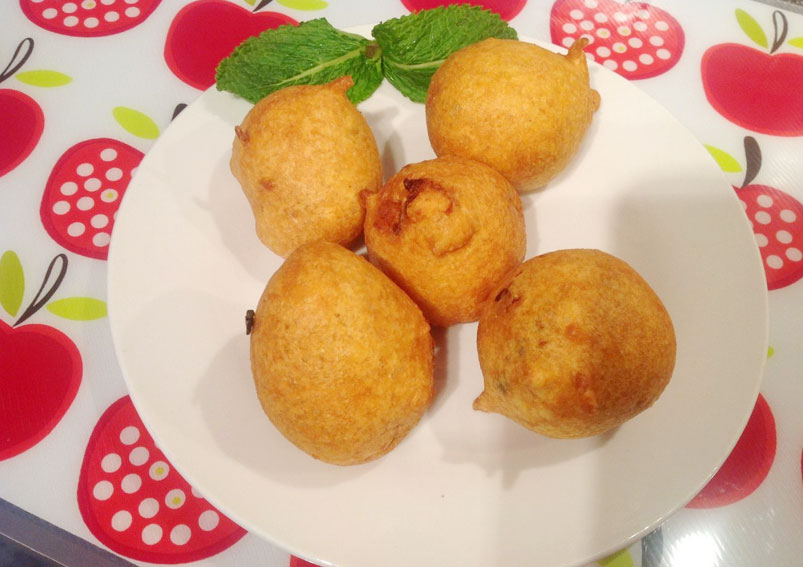 Aloo Bonda is a popular South Indian snack and also a very popular tea time snack or evening snack. It is simple to make and is best served with chutney or sauce. Let's follow this South Indian Style Aloo Bonda recipe.
Ingredients
For the filling
2-3 nosPotatoes (pressure cooked till soft)
1-2 nosOnions (medium-sized; finely chopped)
1-2 nosGreen Chilies (finely chopped)
Coriander/Cilantroa fistful; finely chopped
1 limeLime juice
1 tablespoonTurmeric Powder (optional)
saltto taste
a pinchAsafoetida
1/2 tspMustard seeds
2 tspOil
For the batter
2 cupsGram flour
1 tbspRice flour
1 tbsp(alter to suit your taste) Red Chili powder
1 tspCooking soda
a pinchTurmeric powder
Saltto taste
Wateras required
Other
Oilas required, for deep-frying the bondas
Directions
For the filling
Heat oil in a wok and add mustard seeds and asafoetida.
Add finely chopped onions and green chilies and saute till the onions are cooked nice and tender and add turmeric and stir it well.
Mash the pressure-cooked potatoes and add them to the wok.
Add salt, stir it well and let it cook for 2-3 minutes on a medium flame.
Remove from the flame and stir in the coriander and lime juice (Remember to remove from the flame before you can add the lime juice, else you'll be left with bitter-tasting filling).
Now transfer this filling to a wide plate and let it cool a bit before you can roll them into bite-sized balls and dip them in the batter and deep-fry them.
For the batter
Mix all the dry ingredients together in a bowl.
Add water little by little to make a thick batter (like idli batter consistency).
Pour enough oil in a wok and let it heat up on a medium flame.
Make lime-sized balls by rolling between your palms and set on a clean, dry plate.
Dip the Aloo balls in the batter one by one. Don't put all of them in the bowl as you won't have enough place in your bowl to cover the balls with the batter
Use 2 spoons, pour the thick batter over each ball to code uniformly.
Reduce flame to medium, and gently add in aloo balls in the pan.
Fry it till they turn evenly golden brown all over.
Remove from the oil and put them on tissues to drain off any excess oil.
Transfer to a plate, and enjoy them piping hot with chutney or tomato ketchup.
Check More South Indian Recipes
Meghna Nath
This Recipe Rate :
(0) Reviews