Karnataka Special Vangi Bath/Rice Recipe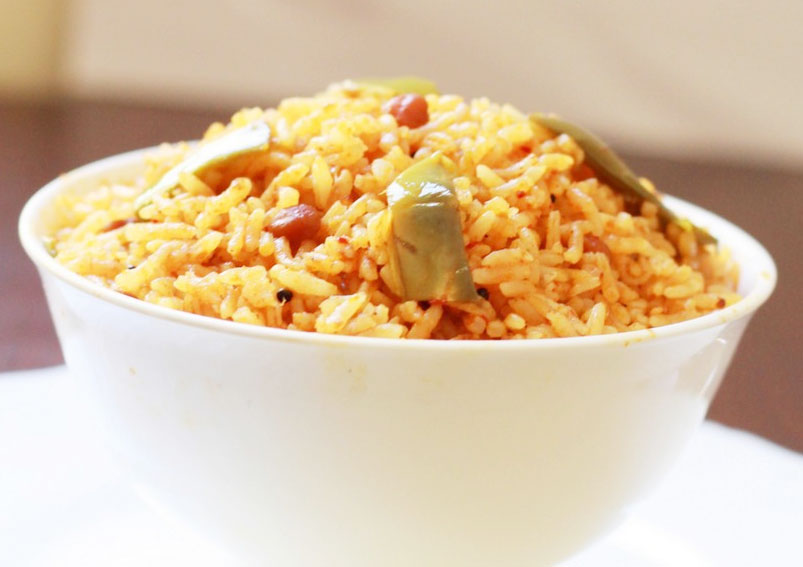 Vangi Bath/Rice is a unique tasty brinjal rice recipe from Karnataka cuisine. It is easy to make. Brinjals and rice are cooked and then seasoned with spice power called Vangi bath powder. This simple dish fits perfectly for all the occasions. Vangi Bath is a tasty one pot meal recipe.
Ingredients
3

brinjals

(baingan / eggplant)
3 cupslong grained rice (basmati)
3green chilies , cut into juliennes
1big size onion , chopped into thin slices
2 tspcumin seeds (jeera)
2 tspchana dal (split Bengal gram)
1spring of curry leaves (kadi patta)
3 to 4 tspvangi bath powder (recipe given below)
3 tsptamarind (imli) water or 1 tsp. tamarind (imli) pulp
2 tbspOil
2 tspghee
saltto taste
coriander(dhania) leaves for garnishing
Vangi Bath Masala Powder:
3 tbspdesiccated coconut powder
2 tbspdal (split Bengal gram)
2 tbspurad dal (split black lentils)
2 tbspcoriander (dhania) seeds
2 tbspsesame seeds (til)
2 tbspcumin seeds (jeera)
2cloves (laung / lavang)
1green cardamom (elaichi)
1/4 tspcaraway seeds (shah jeera)
1/4 tspfenugreek (methi) seeds
5red chilies
1inchpiece of cinnamon (dalchini)
a pinchof asafoetida (hing)
Directions
For Vangi Bath Masala Powder:
Heat a saucepan and dry roast the coconut powder into light golden color and keep it aside and roast red chilies to light brown color and transfer to a plate.
In a pan dry roast chana dal, sesame seeds, cumin seeds, clove, fenugreek seeds, cinnamon, one after one separately.
Let it cool down and grind all the ingredients together.
Making vangi bath
Wash brinjals(eggplants) and cut into long thin pieces and dip cut pieces in salt water to prevent from changing the color of eggplants.
Cook Basmati rice in the electric rice cooker by adding sufficient water.
Heat oil in the pan, add the cumin seeds and stir it and when the cumin seeds crackle, add chana dal fry till light brown in color, then add chopped green chilies, onions and salt and saute for 2 minutes.
Add eggplant pieces, turmeric and cook for 3 minutes or until eggplants are semi- translucent.
Add curry leaves, red chili powder,vangi bath masala powder and stir for a while and cover with the lid and cook on a low flame for 2 minutes.
Add tamarind juice, roasted peanuts/groundnuts and stir well, and cook for 2 minutes.(tamarind juice adds tangy taste to it and end result is eggplant dry curry, absorbed with masala powder, oil, salt, and turmeric).
Mix this into the boiled Basmati rice and add salt and chili powder & masala powder
Add a tsp of ghee and mix well to get all the flavors into the rice and cook for4 minutes by covering with the lid.
Check More Karnataka Recipes
Meghna Nath
This Recipe Rate :
(0) Reviews