How To Make Raj Kachori Recipe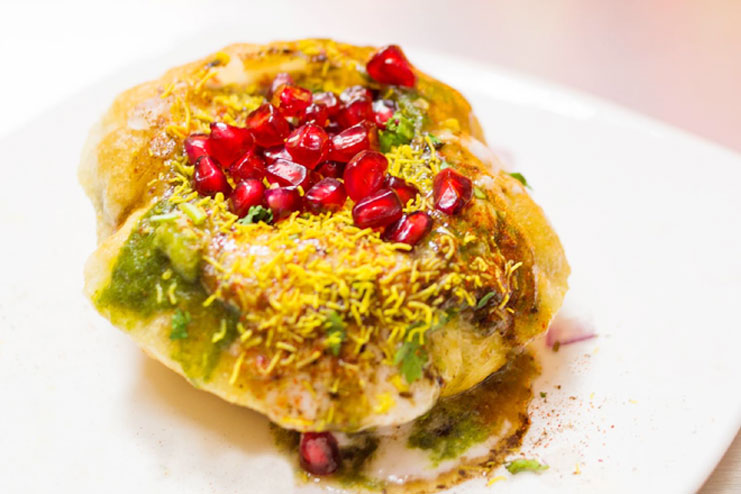 Raj Kachori is a crispy deep fried kachori recipe which is broken from the center and then served with a tangy and spicy filling. The beaten curd poured over the top and then Raj Kachori is enjoyed as a chaat. Let's follow this recipe.
Ingredients
Kachori Dough
1 cupall-purpose flour
1 tablespoonoil
1 cupsalt
1/2 teaspoonFleur de sel (or another flaky sea salt)
½ cuplukewarm rater
Kachori Filling
1/3 cupGram Flour (besan)
PinchAsafoetida
1/2 teaspoonsalt
1/2 teaspoonred chili flakes
1/2 teaspoonmango powder
1 tablespoonoil
Condiments to be served Kachori
1 cupmoong sprouts
1 cupboiled potato cut into small pieces
1 cupwhipped yogurt
1/4 cupHari Cilantro Chutney
1/4 cupTamarind Chutney
2 tablespoonchopped cilantro (optional)
2green chilies finely chopped (optional)
1/4 cupfine sev ( easily available in the market)(optional)
For Hari Cilantro Chutney
1 bigbunch of chopped Cilantro (green coriander)
3green chopped chilies
3 tablespoonsof lemon juice
1/2 inchginger
1-1/2 teaspoonsalt
1 teaspooncumin seeds
1 teaspoonoil
1 teaspoonsugar
Pinch ofAsafoetida (hing)
For Tamarind Chutney
1/2 lbtamarind, seeded
2-1/2 cupssugar
2 cupsboiling water
1-1/2 tablespoonsroasted ground cumin seeds
1 tablespoonsalt
1 teaspoonblack salt
1 teaspoonred chili powder
1 teaspoonground black pepper
1/2 teaspoonginger powder
Directions
For the Dough
In a mixing bowl add all purpose flour, salt, and oil and add water slowly while mixing and knead to make a firm dough.
Cover and set the dough aside for at least 10 minutes.
For The Filling
In a bowl add gram flour, asafoetida, salt, chili flakes, mango powder and oil and keep it aside.
Making Kachori
Knead dough for a minute and divide into 12 equal parts.
Roll dough ball into a 2-inch diameter circle and place 1 teaspoon of filling in the center and seal by pulling the edges together to make a ball and keep aside for 3 to 4 minutes.
Place a filled kachori a clean surface and Use a rolling pin to roll into a circle, approximately 3 inches in diameter.
Heat approx. 1 ½ inches of oil in a frying pan over medium heat and to check if oil is ready, put a little piece of dough into the oil and it should immediately rise to the surface without changing in color.
Slowly drop Kachori into the frying pan and make sure they don't overlap to one another.
As Kachori puff up, slowly turn them over and fry from all the sides and fry till golden brown in color.
Kachori should be crisp and if the Kachori are fried over high heat they will be too soft.
Prepare Moong Sprouts
Add ¼ teaspoon of salt and 2-3 tablespoons of water to the moong sprouts.
Cover with the lid and cook over medium flame for 3-4 minutes or till the sprouts are tender and keep it aside.
For Hari Cilantro Chutney
Blend all ingredients, except the cilantro, into a paste.
Add cilantro, a little at a time, and blend until smooth and add water
as needed and keep it aside.
For Tamarind Chutney
Break the tamarind into small pieces and soak in boiling water for one hour.
Mash it into a pulp and strain and press the tamarind into the strainer to remove all the pulp.
Add sugar to the pulp and mix it well and add the remaining ingredients
Add more sugar, salt or pepper as per your taste and keep it aside.
Serving Kachori
Gently make an inch sized hole in the center of the kachori.
Fill with 1 tablespoon of sprouts, 1 tablespoon of potatoes, 2 tablespoons of yogurt and a drizzle with both of the 2 chutneys.
As an option, add a little cilantro, green chili and 1 tablespoon of fine sev.
These add a little more texture and flavor to the Kachori.
Tip:
This Raj Kachori can be prepared in advance and stored up to 2 weeks in an air tight container, making it more convenient to serve.
It is even easier if you have the Hari Cilantro and Tamarind chutneys previously stored.
Also, Read Ragda Pattice Recipe
Meghna Nath
This Recipe Rate :
(0) Reviews