Quick Aloo Chaat Recipe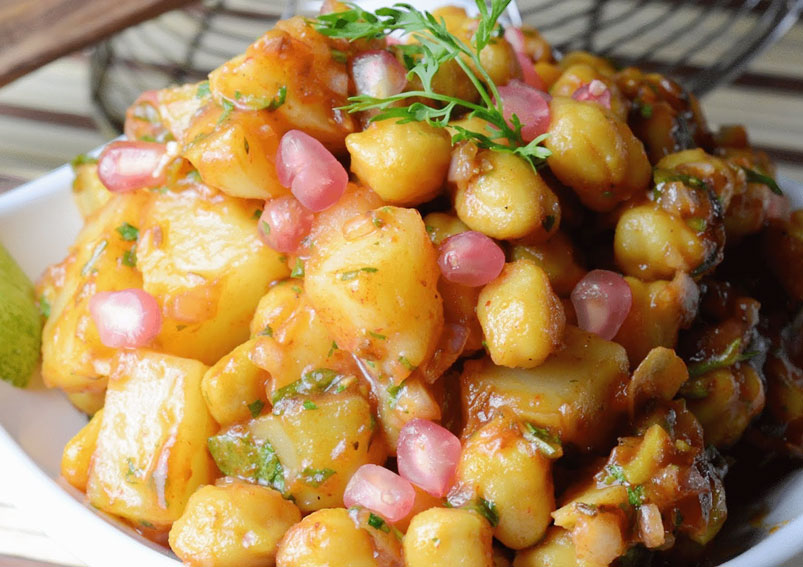 Aloo Chaat is a spicy potato snack. This chaat is a popular snack. It is a simple and easy dish that can be made anytime. It is a quick snack or starter. Even kids love this snack.
Ingredients
4 cupscubed

potatoes

, firmly boiled peeled and cut into bite size
3 tablespoonsoil
1 teaspoonsalt adjust to taste
1/4 cupcilantro finely chopped
1 tablespoonginger thinly sliced
1 tablespoongreen chili finely chopped, adjust to taste
2 teaspoonslemon juice
Spice Mix for Chaat Masala
1 tablespoonroasted cumin seed powder (bhuna jeera)
1 teaspoonred chili powder
1 teaspoonmango powder (amchoor)
1/4 teaspoonblack pepper
1 teaspoonsblack salt
1/8 teaspoonasafoetida
1/8 teaspooncitric acid
1/2 teaspoonginger powder
2 teaspoonssugar
Directions
To make the spice mix
In a bowl mix all spice mix and mix very well keep it aside.
How to Proceed
Heat heavy flat frying pan in medium flame, add oil.
Place the cubed potatoes on the frying pan and sprinkle salt over the potatoes.
Stir fry the potatoes and turn them occasionally until all sides are golden brown in color and cook for 8-10 min.
Turn off the heat and sprinkle ginger, cilantro, green chilies, lemon juice and about 1-1/2 tablespoons of the spice mix.
Mix it well and make sure all the pieces of potatoes are coated well with the spices.
Taste one of the potatoes and add more spice mix if needed according to your taste.
Serve it.
Note:
This spice mix known as chaat masala can also be used to spice up any food. It especially tastes good when it is sprinkled over sliced cucumber and tomato or over pakoras. You can make the chaat masala in a larger quantity and keep it ready to go whenever you need it.
Check More Chaat Recipes
Meghna Nath
This Recipe Rate :
(0) Reviews