Mixed Vegetable Dal Recipe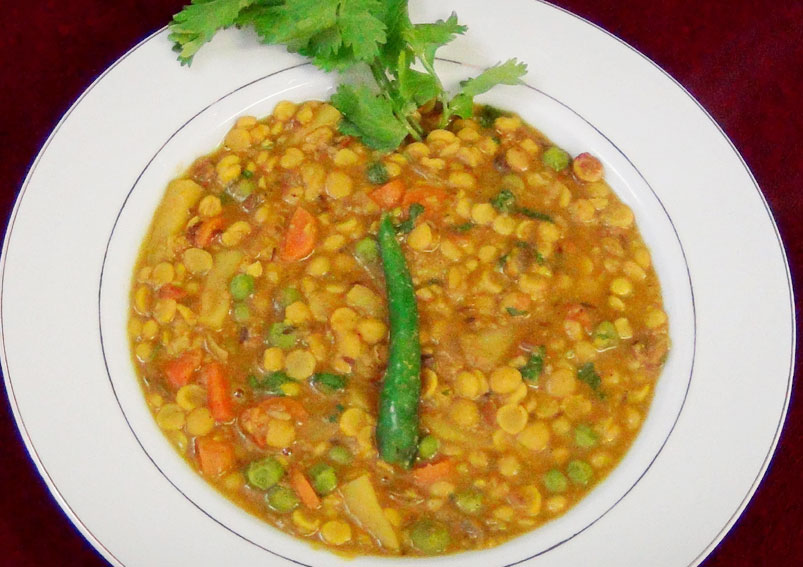 Mixed Vegetable Dal is made with lots of vegetables and dal. This dal is protein rich by using a variety of legumes and vegetables provides other essential vitamins. It goes perfectly with rotis and naan. Let's follow this recipe.
Ingredients
1 cuptoovar (arhar) dal
1 tspfenugreek (methi) seeds
1 tbspchana dal (split bengal gram)
1 tbspmoong (whole green gram) dal (green gram) flour
1 tspginger-garlic (adrak-lehsun) paste
4green chilies
1/2 cupboiled and mashed red pumpkin (bhopla/ kaddu) , chopped into small pieces
1/2 cupchopped tomatoes
1/4 cupchopped carrots
1/4 cup

green peas

1/4 cupcauliflower
1 tspcumin seeds (jeera)
cinnamon(dalchini) to season
a pinchof turmeric powder (haldi)
saltto taste
1 tspsugar
Directions
Pressure cook toovar dal, methi, chana dal and green gram dal with haldi powder and keep it aside.
Heat oil in a kadhai add jeera, cinnamon, turmeric powder, and add ginger garlic paste
Add all the vegetables and saute it for 5 min.
Add salt, sugar, green chilies, and a little water and cook till they are soft.
Add the cooked dal and allow it to boil for 10 min
Garnish with coriander and serve hot with roti or naan.
Meghna Nath
This Recipe Rate :
(0) Reviews