Yummy Chocolate Walnut Fudge Recipe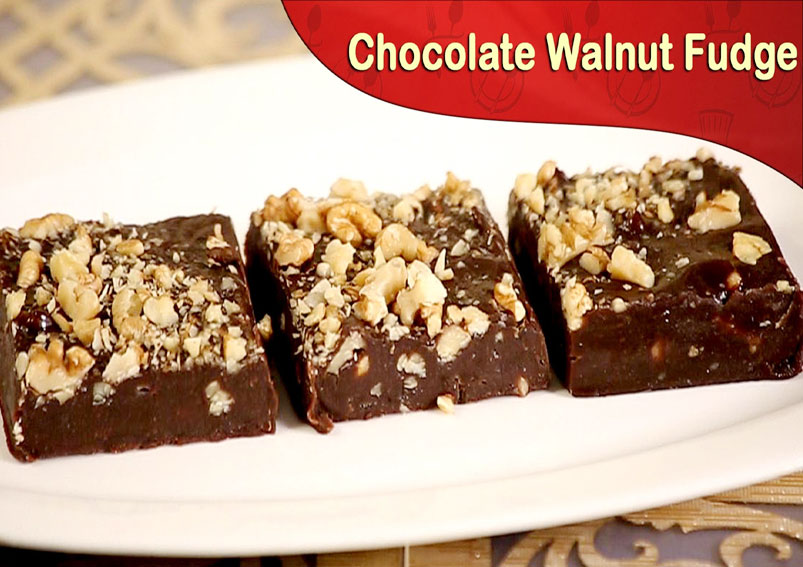 This Chocolate Walnut Fudge has a luscious texture and a rich and intense flavor. The walnut in every bite complements the sweet chocolate flavor of this dessert, carrying the experience far beyond comparison. Let's try this yummy recipe.
Ingredients
1/4 cupcocoa powder
1/2 cupchopped

walnuts

(akhrot)
1/2 cupcondensed mil
1/4 cupbutter
1 tbspsugar
1/2 tspvanilla essence
Directions
Heat a broad non- stick pan, add the condensed milk, butter, sugar, cocoa powder and vanilla essence, mix well and cook on a medium flame for 3 minutes and stir continuously.
Remove from the flame, add the chopped walnuts and mix it well.
Transfer the mixture immediately into a 100 mm. × 100 mm. (4" × 4") greased square aluminum tin and spread it evenly with the help of the back of a spoon and keep it aside for 30 minutes or till it cools completely and get sets.
Serve it or store in an airtight container at room temperature for 2 to 3 days.
Walnut is a good source of vitamin E, folate, melatonin, omega-3 fats, and antioxidants.
Check More Sweets Recipes
Meghna Nath
This Recipe Rate :
(0) Reviews