Soft Garlic Naan Recipe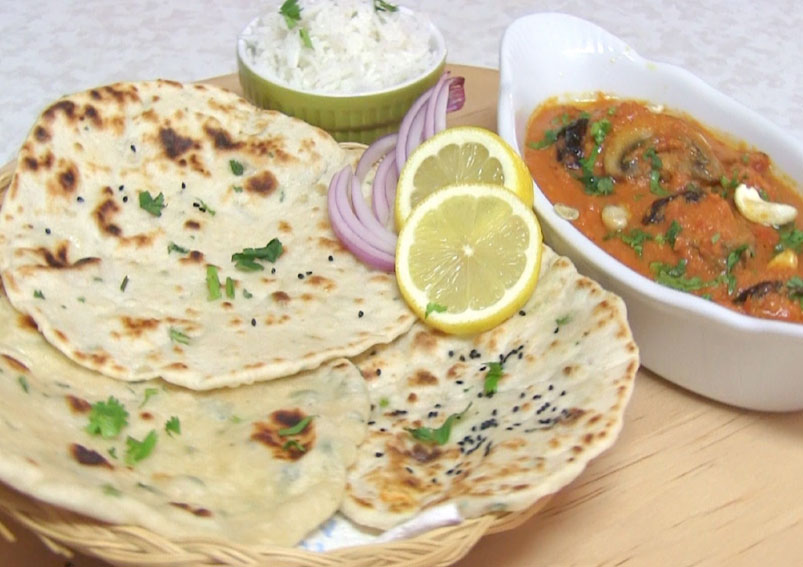 Garlic Naan is a flat bread popular in Indian. Traditionally naan is cooked in a tandoor or clay oven. It is soft, fluffy and aromatic and goes well with any spicy Indian curry. This is mostly prepared during parties and celebration. Let's follow this recipe.
Ingredients
To Be Ground Into A Coarse Paste
1/4 cup1/4 cup garlic (lehsun)
1 tspcumin seeds (jeera)
2green chilies, finely chopped
1 tbsplemon juice
1 tspsugar
Other Ingredients
1 cupplain flour (maida)
1/2 tspfresh yeast, crumbled
1/2 tspsugar
1 tbspoil
1/2 tspsalt
oilfor greasing
butterfor brushing for serving
Directions
In a bowl dissolve the yeast and sugar in 2 tbsp of lukewarm water and leave it aside for 10 minutes or until the yeast begins to ferment.
In a bowl add flour, yeast-sugar mixture, oil, salt, and the ground paste and knead into a soft dough by using enough water and knead until it is smooth and elastic (approx. 5 to 7 minutes).
Cover the dough with a wet muslin cloth and keep it aside till it doubles in volume (approx. 15 to 20 minutes).
Press the dough lightly to remove the air and divide the dough into 4 equal portions and roll out each portion into a 100 mm. (4") diameter circle.
Grease a pressure cooker very lightly with oil and remove the lid from the pressure cooker and heat it upside down over an open flame.
Apply a little water on one side of each naan and stick the wet side of the naan around the inside of the pressure cooker.
Place the pressure cooker upside down directly on the surface and cook till both sides are golden brown and you can cook 3 to 4 naans at a time inside the walls of the pressure cooker.
Remove the naans and brush with butter.
Serve it hot with palak paneer.
Meghna Nath
This Recipe Rate :
(0) Reviews